« All Posts by this Blogger
Working as a Learning Fellow (Again!)
Although I haven't taken classes for the past few terms, this summer I'm working as a Learning Fellow for BIOL13 (Gene Expression and Inheritance). I was actually a Learning Fellow for this same class last summer as well. It was a rewarding experience, one in which I felt I learned a lot about the learning process, teamwork, and communication in general.
I've written a bit about this class before, but this term will be different for both the students and myself. First of all, the professor teaching it isn't the one I had my freshman year, and every professor has a unique teaching style and way of interacting with the class. However, the course facilitator, who manages the Learning Fellows, is the same, as is one of the other Learning Fellows this summer!
Even though the course will be online, we still attempt to make it as interactive as before, which is a difficult feat. In the first week, students are placed into groups, with the goal being that they aren't your friends, but rather strangers. The groups are also be diverse in class year and if possible, major! For example, I was put in a group with an Asian Societies Cultures and Languages, Neuroscience, and Sociology major (at least that's what we were planning at the time).
After the professor finishes lecture, everyone is split into their groups in breakout rooms. They have access to a Google Slides with a few practice problems and spend a significant portion of class time working through those together. As Learning Fellows, we are assigned two groups to manage and bounce between. Last year, we were in charge of three, but I think they wanted to ease the transition to remote learning and ensure that everyone gets as much help as they need.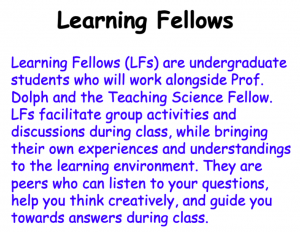 At Learning Fellow Orientation, some students who had worked in the spring gave advice on how to best engage with students over Zoom. Their advice was mostly to be patient and recognize that making mistakes are totally expected. I also found it interesting that Learning Fellows were assigned to classes in a wide variety of disciplines, from Classics to Computer Science and Engineering.
Given the likelihood that most of the upcoming school year is going to be remote, especially for large lectures, it's great that summer term will provide another opportunity to become comfortable with remote learning. At least with regards to the course team that I'm a part of, we're playing around with different platforms and technologies to see what works and what doesn't, such as using Slack for more communication.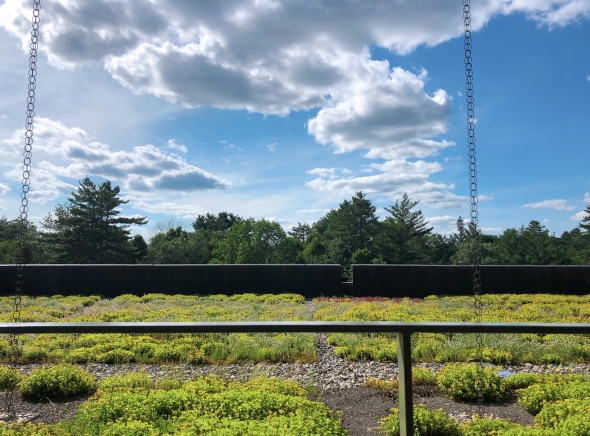 I've really enjoyed getting to know my assigned groups better through the weeks, even if it is through a webcam! Most of them are '22s, so I haven't had the chance to meet them before. But I still remember my Learning Fellow when I took the class years ago, and how grateful I was to have her as a point person when I was still a bit intimidated to ask the whole class. I hope I can fill in that role for others!