« All Posts by this Blogger
Weekend Whirlwind at Dartmouth
I'm writing this back in Maryland, where I'm at for my internship this term. But I was lucky enough to visit Dartmouth for a weekend and was reminded of all the reasons why I love it so much. I was in Boston for a summer internship interview and decided to make a pit stop in Hanover: it was my friend's birthday, a long weekend, and another friend of mine was also in town for an interview into Geisel's Early Assurance Program. All the stars seemed to align, leading me to buy a round-trip ticket on the Dartmouth Coach.
Once there, I was immediately reminded of how brutal the cold can be. Used to mild 40 degree weather on my short walk to the car, I forgot the chilling temperature on-campus and how much walking students do: from the dining halls to dorms and the library. I also forgot how breathtakingly beautiful the buildings are, covered in a blanket of snow.
My first stop was FoCo (the all-you-can-eat dining hall)! Since it was Valentine's Day, they put out a chocolate fountain, along with food to dip like strawberries, marshmallows, and pineapple. I caught up with two of my friends about my internship, their classes, and Winter Carnival, which was the weekend prior.
The next day, I spent a few hours in the Baker-Berry Library doing a few tasks I had missed the two days I took off from work. For dinner, I went to the International Student Association's winter gala, which was held in the Hood Museum of Art. They had some finger food and decorated the place. Most students were also dressed to the nines, and a hired student photographer went around taking photos of the flurry of conversations and activities. Although I'm not an international student myself, I was with two friends who were. And regardless, these sorts of events are open to anyone! Since they're partially sponsored by the College, an email goes out to the entire campus advertising the event so that anyone who is interested can attend.
Afterwards, we headed to the Hopkins Center of the Arts for a showing of the movie Knives Out. I had wanted to see it after hearing rave reviews, and luckily, with a student discount tickets were only $5! The whole theater was pretty much sold out, and with good reason. After two hours of laughs and gasps, we headed to the One Wheelock coffee place for yet another event/movie.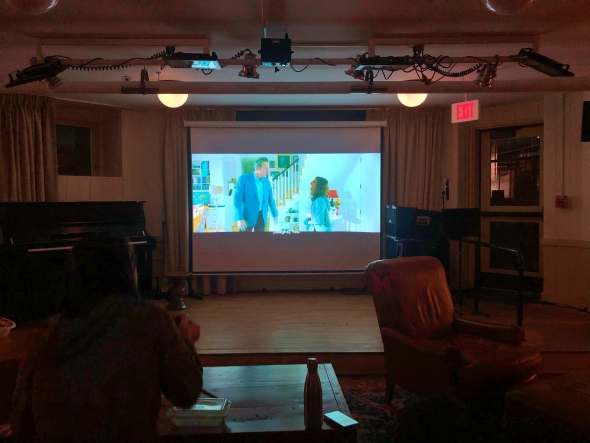 Collis After Dark is a program that provides fun programming every weekend night as an alternative to other social activities. This weekend, they were playing a movie showing of To All The Boys I've Loved Before: P.S. I Still Love You (with make-your-own ice cream sundaes!). We just had to stop by.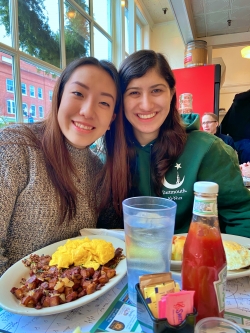 On my last day, I had brunch at Lou's, the most classic Dartmouth brunch spot. With a full belly and a happy heart, I boarded the Coach to head back to Boston. It was a bittersweet feeling to be leaving people who I knew I wouldn't see in several months, as I also knew that there would be so much to catch up on once senior year comes around.