« All Posts by this Blogger
Volunteering for The Prouty
On July 12th and 13th, the annual Prouty took place in the Upper Valley. The Prouty raises funds for Dartmouth-Hitchcock Norris Cotton Cancer Center, the only cancer center in northern New England. For a brief bit of history, the Prouty began in 1982 when four nurses committed to cycling 100 miles through the White Mountains of New Hampshire.
To participate in the Prouty, individuals can cycle, walk, row, golf, or volunteer, which is the route I went for, being less athletically inclined than others. I signed up to volunteer for the event alongside some of my sorority sisters. Our philanthropy chair informed us of this opportunity and continued to remind us to sign up for volunteer spots every few days leading up to the event (our groupme chat name is actually 19XProuty).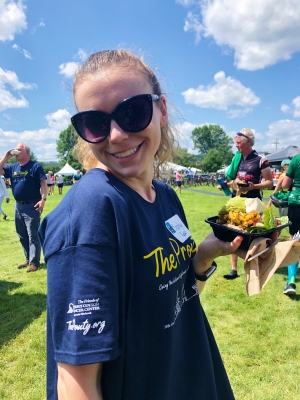 I signed up for the cheer station with a few of my friends, which did not disappoint at all. With cow bells in hand, we stood at the finish line for three hours, cheering on the cyclers, walkers, and runners who made it, some of whom had been cycling for 100 miles. There were also so many dogs and young children, who were impressively biking in the heat (and for a good cause!).
There were so many Dartmouth students at the event, volunteering from set-up to clean-up, or even participating in the race. A few of my friends actually cycled the entire 100 miles, which I commend them for. People who participated in the athletic events raised money and asked for sponsored donations. It's a huge event that mobilizes the entire Upper Valley community.
The Prouty is just one example of volunteering opportunities on-campus. I have recently been thinking about joining a student club that focuses on mentoring young children, as there are many of those. While I volunteer as a tutor and a patient support corps officer, those mostly mean interactions with high schoolers and adults. No matter what you are interested in, there is no doubt a club for it.