« All Posts by this Blogger
A Summer Birthday Bash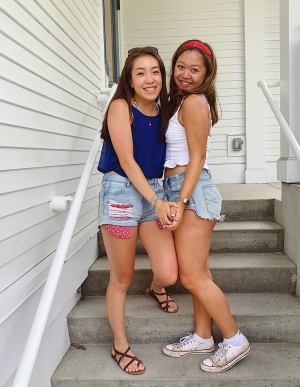 One of the things I was looking forward to during sophomore summer was the chance to actually celebrate my birthday while school was in session - something which I never did in high school as my birthday is in early July. Since my birthday also falls close to July 4th, there were some on-campus events, no school on a Thursday, and a weekend for my sister to visit via the Dartmouth Coach from Boston. 

On July 4th, I went canoeing on the Connecticut River with a few friends, and ended up purchasing a Ledyard Canoe Club membership, which is only $40 per year for Dartmouth students. With two canoes in hand, we set down the river to Gilman Island, where we docked and walked around. This is where First-Year Trips leaders camp the night before First-Year Trips starts as a bonding exercise. One of my friends also stayed on the island during her Sophomore Year Trip, which was a canoeing trip.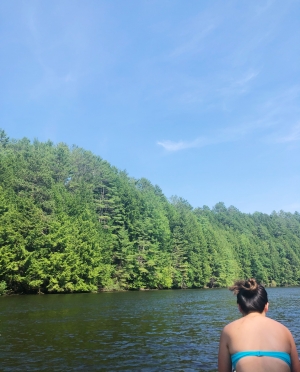 When my sister came to campus, we first hit up the Collis Farmstand Market. Each Friday during the summer, students can go to Collis Center to purchase fresh local goods using DBA (dining dollars). It was my first time there and I was astonished to see a long line of students waiting for the market to open! I got tomatoes and cheese, but there was also kale, pasta, meats, and fruits available. I will certainly be heading there again next week! 
Once again, I went canoeing, this time with my sister. We circled Gilman Island and sunbathed on the docks before jumping off into the cool water. It was a lovely, sunny day and there were a ton of other people in canoes, kayaks, paddle boards, on the docks or swimming. Then, we attended a free movie showing of the James Bond movie, Goldfinger, at the Hopkins Center of the Arts.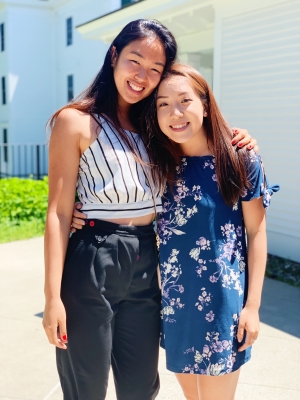 On my actual birthday, I got together a group of friends and we went downtown to Market Table, a brunch spot that I had not been to, and picked up a cake from Lou's. Sitting in the back porch of my sorority surrounded by close friends and my sister was so special. Some of my friends also have summer birthdays, and I'm looking forward to celebrating (for once) with them at Dartmouth. I'm also so happy to have been able to show New Hampshire and its outdoors to my sister, who marveled at its beauty.