« All Posts by this Blogger
Savoring My Last Dartmouth Fall
I've almost been on-campus for a month now, and it's crazy how much the scenery has changed. When I arrived, we were on the edge of summer - I turned on a mini fan, opened my windows to let the breeze in, and felt that annual return to school feeling as we asked each other about how we spent the summer.
Now, mid-October, the passage of time has been made even more clear through the surroundings. The tree outside my door becomes more and more red each day, I ordered a Pumpkin Spice Latte from Starbucks the other day, and on several occasions have stopped dead in my tracks to enjoy the beautiful New England foliage.
foodie_1601844148.jpg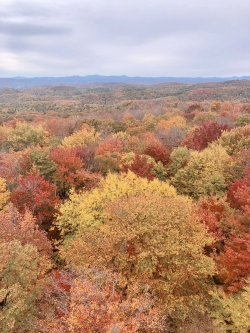 Since my younger sister is a '24, my older sister decided to take a drive up from Boston to accompany us on some socially distanced fall activities. It was such a good break from a busy point in the term, and spending time in nature is always good for the soul. First, we headed up to the Gile fire tower, a popular spot for an easy yet beautiful climb.
I ran into a friend who had come with the Dartmouth Symphony Orchestra as part of their bonding/social activities. Gile is easily accessible from campus, only a 20-minute drive away, and I'd actually gone up twice before (once with my sorority and once with friends). I'm really going to miss it - the view at the top is unlike anything I've ever seen.
img_9076.jpg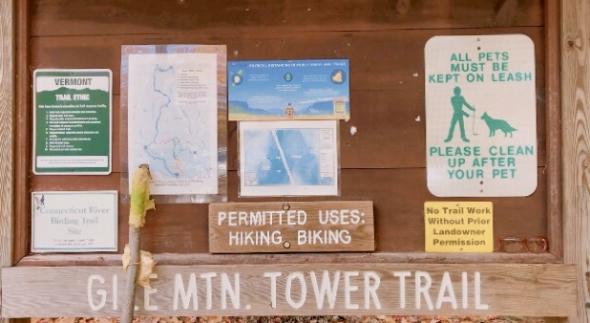 Afterwards, we stopped by Poverty Lane Orchard for some apple-picking! I had actually never gone apple-picking before, but it was so much fun. I remember in my freshman year, the Living Learning Communities organized a trip, but I was unable to make it, so I'm glad I finally got to a few years later!
img_9077.jpg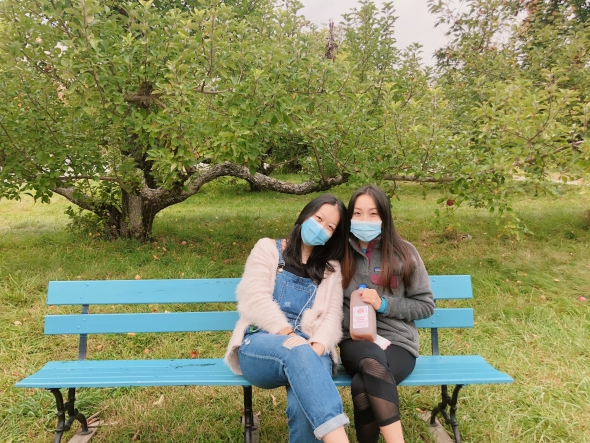 Finally, we went to Tuckerbox, a Turkish restaurant, for takeout and sat on the Green. The sun was out and there were other groups of students eating or studying (or playing spike ball). I also wanted to show my sister Occom Pond, where Dartmouth students love to go for walks. With that, the day had passed by!
The great thing about Dartmouth is that there is still so much to do even during times of COVID-19, just because of its unique location nestled in the mountains of New Hampshire and Vermont. I'm not ready to say goodbye to Dartmouth's fall just yet (especially because I intend on visiting my younger sister), but I'm hoping to take advantage of more fun outdoor activities like these to enjoy it while it lasts.