« All Posts by this Blogger
Putting a Ring On It
One of my favorite buildings on campus is the Hopkins Center for the Arts. There, I have watched student-produced plays, been surrounded by all the freshmen in the grade during orientation events, eaten the Impossible burger (and much more), and studied at the "top of the Hop." However, one thing that I had yet to do, at least until this week, was make jewelry at the Donald Claflin Jewelry Studio.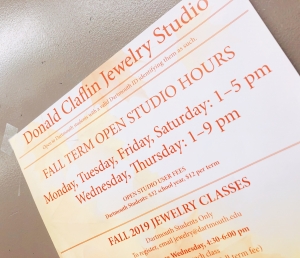 It was only in the past year or so that I began to wear rings everyday, often not taking them off at all. Part of the reason for that is I bought one ring, and a second one last week, from a stand in town. The stand has become a staple of the Dartmouth community, constantly there to sell quality rings, earrings, and necklaces to whomever may pass by (usually students).
Now that I had a reason to, I signed up to go to the jewelry studio on Wednesday, and then one of my friends informed me of a free session they were holding on Thursday. Instead of choosing between them, I decided to go to both! Although the rings I made would definitely not be sellable, and two of them are actually still unfinished, I learned so much about the process of jewelry-making.
The first session was more of a do-it-yourself open session. We measured our ring size using something that resembles a collection of dungeon keys, then tested out our design using scrap metal and special stamps that we had to hammer to get an imprint. It was definitely difficult, as my crooked letters would indicate. I decided to make one with my name and another with part of my favorite quote.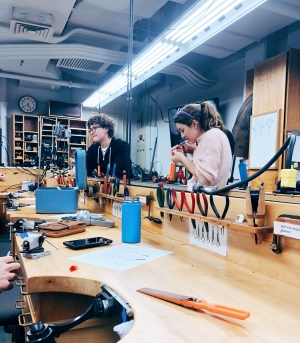 After that, we filed the ends down and then bent the ends so that they met. A worker then helped us solder the gap to close it, quench, and pickle the ring. The last step involves hammering it to create a round shape, removing the solder line, and polishing, and there you have it! I must admit, I haven't gotten past the soldering because I had to leave, but one of the great things about the studio is you can simply leave your work in a little bag and come back during their open studio hours.
The second event was more formal: "Stonesetting Demystified," a special guest artist workshop with Tim Lazure. I went with my only experience literally being from the day before, and started to sweat a bit when he brought up Burr drills and diamond tables. After an hour of him presenting and demonstrating what we were to do, we got to work. It was a really fun experience and affirmed how much I like handiwork (and my interest in surgery…).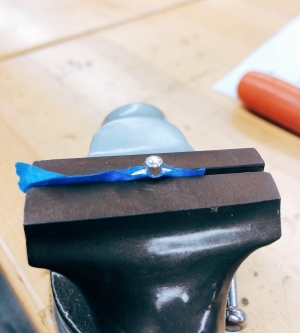 The students and the guest speaker who helped us were so encouraging and knowledgeable, and of course, I admired the student workers' jewelry, which was mostly homemade. I'm glad that I finally made the trip to the jewelry studio and am certain that it will not be my last, especially since I still have two rings awaiting further construction…