« All Posts by this Blogger
North Park's Magical Transformation
A week before class started, right when my family was in the middle of marathoning all eight Harry Potter movies, I received an email from my House Community, North Park. Dartmouth has a total of six House Communities, which are not unlike Gryffindor or Slytherin (minus the talking sorting hat and association with different personality traits). The email advertised the first event of the winter, and to my surprise, it was going to be Harry Potter-themed!
I brought a few of my friends who are also in North Park, and we set out for House Center A (aka the Onion), a building meant for North Park and West House. What we saw when we walked in was beyond expectations. The North Park executive council truly went all out in their decorations, thoroughly decking out the entire place in various Harry Potter paraphernalia. (There was even a Moaning Myrtle in the bathrooms, as we came to discover.) It truly felt like I was teleported to Hogwarts.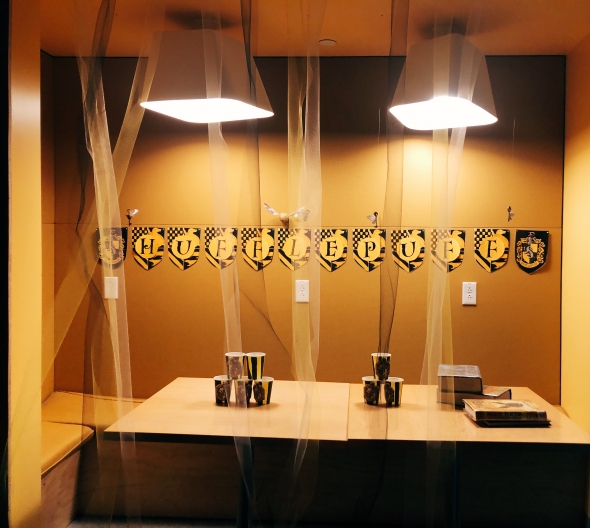 They served all sorts of elaborately decorated Harry Potter-inspired finger foods, cupcakes, and cake pops, as well as butterbeer. I've personally never gone to Harry Potter World in Florida, but I can't imagine that the butterbeer I drank could be improved. And what's Hogwarts without a little entertainment? The Dartmouth Association of Magicians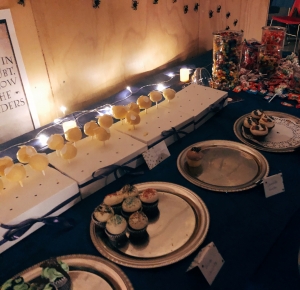 performed a show, and there were various activities set up all around the Onion, most notably a wand-making station. Not quite as fancy as Ollivander's, but you would be amazed at what you can make from a wooden stick, glue gun, and paint. I completely forgot how relaxing arts and crafts can be, but evidently, the students and staff who organized this event had not. The event was attended not only by undergraduates, but also graduate students, and the Housing Community events are typically great opportunities to get to know them. 
The first week back can definitely be an adjustment for some, but this was the perfect event to lift my spirits. As we reluctantly ate the adorable snitch cake pops, I could hear lively Harry Potter music playing, people "ooh" and "aah" ing at the magicians, and laughter erupting as the trivia game continued. As an extremely late but now avid fan of the world of Harry Potter, I sincerely appreciate all of the effort put into making this event so much fun and bringing the North Park community together. Harry Potter is, at its core, about an incredible community of students and staff banding together, and in that sense, Dartmouth isn't very different. Now if only we had time turners…