« All Posts by this Blogger
No Lack of Pre-Health Advisers
The transition from high school to college is a daunting one, regardless of what you're planning on studying. But that transition might be a little more stressful if you're on a pre-professional track. With required classes, competitive internships, and extracurriculars to keep in mind, freshmen can quickly feel overwhelmed.
Luckily, as I have experienced, there is a plethora of resources available to not only pre-health students, but also pre-law, and general professional development advice. The first example starts as early as orientation week, when there are a number of open houses held by all the departments. I remember going to the chemistry one and asking an older student about when I should take the general chemistry sequence. They gave a lot of helpful advice about planning and made me realize that ultimately, it didn't really matter when I took the classes, it depended largely on what my other two classes for the term would be.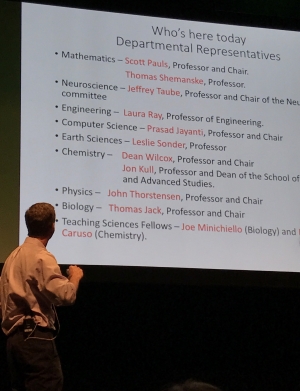 There are also clubs which offer support, such as the Women in Science Program. I signed up for a peer mentor and matched with a student a few years older than me majoring in biology. She helped give me advice on how to plan accordingly in order to be able to give myself flexibility later on in terms of if I wanted to do a gap year before medical school.
Finally, there's the official pre-health advisors, part of the Health Professions Program (HPP). One of the most convenient and helpful ways that HPP guides students is with weekly walk-in hours. Those are times during the day when you can drop by and ask questions about anything and everything. I've gone for advice on choosing classes if I was concerned about taking on too heavy a workload, weighing whether to add my QSS major, and for an extra set of eyes for internship, scholarship, and other important applications.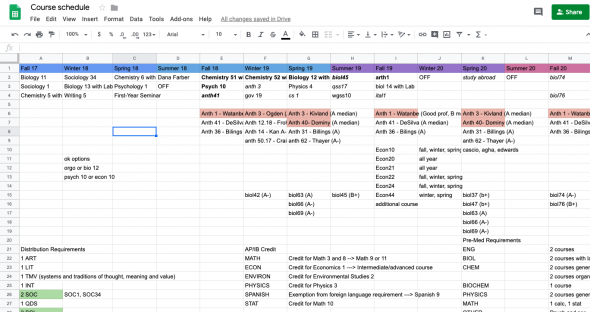 Besides these more formal opportunities to ask questions, there are tons of informal ones. Whether it's asking my First-Year Trip leaders, talking to my professors during office hours, or going to my pre-health friends for advice, I've been shown many times that people are always open and willing to give their five cents.
While everyone has a different path, and it's no use to follow anyone else's, there is certainly comfort in the fact that you're never alone in the process.