« All Posts by this Blogger
My First E-Bike Ride!
With current COVID-19 restrictions, such as social distancing and limited gatherings, the Dartmouth Outing Club (DOC) had to rethink the way that they run their outdoor excursions. Instead of completely scrapping ways for students to enjoy the beautiful fall landscape, they bought e-bikes!
E-bikes, or electric bikes, pedal just like a regular bicycle. However, with the electric component, it becomes a lot more manageable to go up hills and travel a far distance without becoming tired. This was my first time riding an e-bike, and I hadn't ridden an actual bicycle in a year or so, so I was pretty nervous!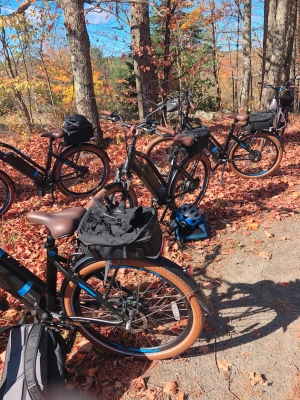 I signed up for the trip via a new online platform the DOC uses to post new trips. My friend actually told me about it because she refreshes the page a few times a day for the best chance of getting a spot (they go fast!). The DOC only has eight e-bikes, so spots are limited. A few days later, I got a confirmation email that I was approved for the trip!
I brought my bike helmet, a backpack with my water bottle, and layers. After arriving, I had to fill out a quick waiver, and then met the other students on the trip, including our two co-leaders. We learned about how to safely ride the e-bikes, and practiced on the Green for a few minutes.
We set off for Dutton Hill, for a view of the mountains and campus. It was about 3 miles, and because of the electric motors, it only took us about 15 minutes! I'm going to be honest and say that on the way there, I was mostly too scared to look away from the road, but in my peripheral vision, I did notice the hued leaves on the ground and in the trees.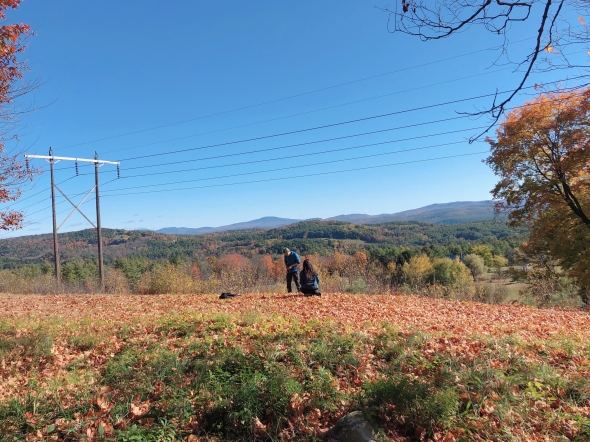 Once we got there, we took some photos (can't forget jumping ones!) and took in the views. We could even see the tower of Baker-Berry if we looked close enough. Then, we set off for our next destination, King Arthur Flour (KAF), whose flagship campus is in Norwich, Vermont. KAF used to also have a location in Baker-Berry library, so it was a staple of Dartmouth's campus.
I ordered a few of their bakery items, including a delicious rye sea salt brownie. I couldn't finish them all, but I shared it with some friends once we got back to campus. It was such a fun trip and I was so glad to have signed up for it! The e-bikes make traveling to places off-campus much easier, and I also got to meet some new faces, including some '24s. I hope to have the chance to ride the e-bikes again soon!