« All Posts by this Blogger
Music with MILCK
I love music just as much (and maybe even more) than the next person, but I must admit, I'm not as hip about the top 50 or the popular songs kids listen to these days. I don't listen to rap music and I tend to enjoy more mellow, indie music, which is why I was so excited when I found out that MILCK was coming to campus earlier this term. Yes, I mean MILCK as in the singer, not a drink to eat with cookies (I feel like I mention cookies at least once in every blog post).
I had first heard of MILCK in relation to the Women's March in Washington, D.C. Although I did not attend, many of my friends did. A video of a group of women, including MILCK, performing an a cappella version of her song "Quiet" went viral the next day, with millions of people watching it, myself included. 
Her song lyrics and their performance was so powerful that I looked into her other songs and became a fan. She frequently sings about overcoming abuse, the complexities of her relationship with her parents, and her life as an Asian American. When I received an email from Collis Programming Board about MILCK coming to campus and performing, I was so excited, I just knew I had to go. Even though most of my friends had never heard of her, one of them had, and we ended up going together.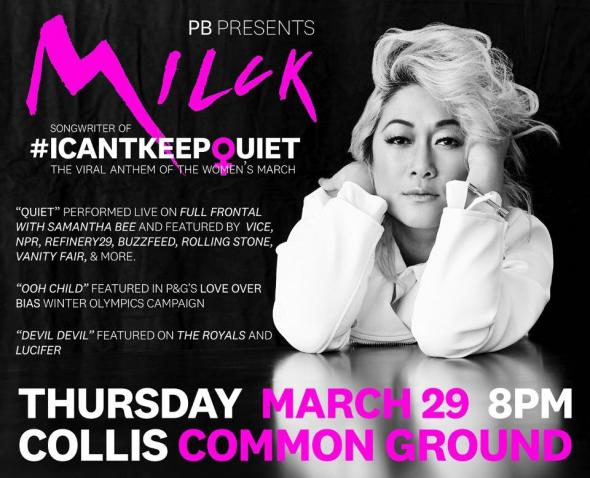 To my surprise, there were only about 30 people in the room, which gave the entire performance an incredibly intimate atmosphere. She cracked tons of jokes (including the fact that she could finally tell her parents she went to an Ivy League), told us about the backstory behind some of her songs, and blew us away with her voice. At the end, my friend and I hung around, hoping to get the chance to talk to her for a bit and maybe even take a photo with her. As you can see, it happened! This was definitely one of the highlights of my year so far, and I never would have thought that I would get to listen to one of my favorite artists live and even talk to her afterwards about the impact of her music.