« All Posts by this Blogger
Meeting the Woman Running for President
It's not every day that you get a front-row seat to hear a presidential candidate talk about the issues she is passionate about. Kirsten Gillibrand '88 is the first Dartmouth alumna to win election to Congress, and she has represented New York in the United States Senate since 2009. She is an advocate for affordable child care, affordable healthcare, paid family leave, and more. And as she has recently announced, she is running for president in the 2020 election!
The event featured three Dartmouth female alumni who forged a path for themselves in politics. They include Martha Hennessey '76, Annie Kuster '78, and Kirsten Gillibrand '88. Hennessey mentioned that she actually met Gillibrand at a Dartmouth alumni organized event. Kirsten talked about how during her time at Dartmouth, she majored in Asian Studies, did a study abroad program in Beijing, and played squash (her coach was even at the talk!).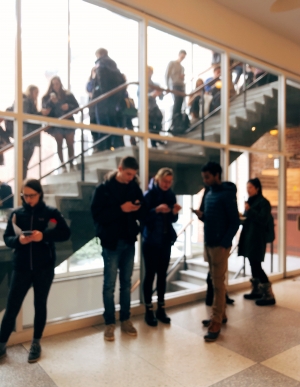 The event itself had a huge turnout and was attended by both Dartmouth students and local community members. Though it technically started at 3 pm, there was already a line by 2 pm when I walked by to grab food from the nearby dining hall, and some people couldn't get in because there simply wasn't enough space. It was a great opportunity to get to know about Senator Gillibrand's experience as a senator and her platform on various issues, including climate change, student loans, and how she plans to win the Midwest votes.

It's also quite impressive how much the Dartmouth Democrats accomplish. They are one of the most active student groups on campus and regularly invite speakers, advocate for various issues, and invite other students to become more politically active. During the midterm election, they made sure that vans would leave every 15 minutes to drive students to polling stations and students knew about the whole registration process. As the executive director mentioned before the speakers took the stage, it is incredibly easy to get involved with politics and the barrier is low.

As other bloggers have previously written about, Dartmouth is a unique and incredibly important place to be in terms of the political landscape, and 2020 will certainly be no exception.