« All Posts by this Blogger
Margaret Atwood's Worlds of Dystopia
In my senior year of high school, we had a poetry unit where we read a dozen or so of Margaret Atwood's poems, carefully analyzing and dissecting each one to prepare for our International Baccalaureate Oral Commentary. As someone who was frankly intimidated by most poetry, I quickly became a fan of both her style of poetry as well as the themes she touched upon. A few months later, I decided to read The Handmaid's Tale for my independent reading project. It's safe to say that I became a pretty big fan of Atwood, who only became more and more well-known given the hit Hulu series based on The Handmaid's Tale.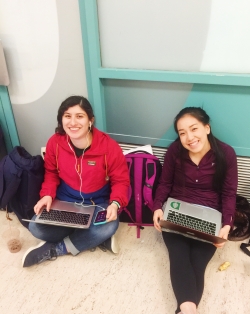 Now imagine my excitement when I found out that Margaret Atwood herself would be coming to Dartmouth to give a free public talk, titled "In the Depths of Dystopia." Pretty ominous, am I right? Atwood did not disappoint, telling us to "turn on [our] flashlights. We're going into the cave." She began an in-depth discussion of two of her novels, Oryx and Crake and The Handmaid's Tale. In both, she explores the role that science and medicine play in a dystopian world, which inevitably forces the reader to confront ethical issues. I thought it was also interesting to learn about her personal experiences that inspired the premise of The Handmaid's Tale, most notably the several years she spent living in Czechoslovakia after the Cold War. She listed the never-ending silences, stares, and disconnection as aspects of her environment that she tried to recreate.

Atwood ended on a positive note, however, laying out five rays of hope for us. All of them included technologies or new discoveries related to battling climate change. She also urged us to vote, saying that it was one of the most important things that we could do.

This lecture was part of the Dorsett Fellowship Lecture Series, sponsored by the Ethics Institute. Past speakers include science fiction writer Ted Chiang and Professor of Law at Yale Law School Robert Post. The Ethics Institute also has a Law & Ethics Fellowship, which some of my friends are a part of. They have some amazing opportunities to meet and discuss law/ethics issues with prominent people in various fields (they got to have a meet-and-greet with Atwood herself!). The event itself was extremely well-attended, filling up the entire Spaulding auditorium, our biggest venue on-campus.
After the event was over, we were able to browse some of her books that Norwich Books was selling outside. I probably spent a solid 15 minutes standing there, unable to decide which one to buy. I ended up choosing Alias Grace, whose protagonist is one of the most notorious women of the nineteenth century. I'm excited to read more of her books, especially now that I can say I have officially seen and heard from her in-person.