« All Posts by this Blogger
Let's Rewind to… Trips!

A few days ago, I hit submit on my application to volunteer as a First-Year Trip leader (see above). I never would have expected to actually want to do something that entails no showers for five days and sleeping in the woods, but those inconveniences are outweighed by the many reasons why I want to re-experience Trips.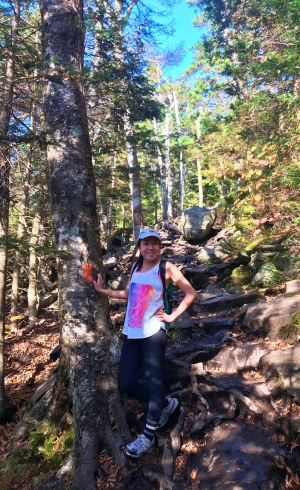 I want to share some snippets of my application, where I hearken back to my memory of stepping off of a nine-hour car ride and being thrown into the world of Dartmouth. A lot of students apply to volunteer with Trips in some way, whether that's being a Trip Leader, a member of Croo for all the Trips, or helping to plan it all! So here's what I said: 
"I worried a lot about fitting in at Dartmouth. I didn't see myself as a 'stereotypical' student, as a female, POC, introvert, and non-outdoorsy person. And attending Dartmouth was one thing, going on Trips was another. But I signed up with hesitation and breathed a sigh of relief at my placement in Nature Exploration, as it sounded tame enough.
I can't say that Trips was a completely positive experience. I fretted about coming off as standoffish when I was really just nervous, felt self-conscious about wearing no makeup in front of so many people, and slept like a log most nights, utterly exhausted. But I also truly got out of my comfort zone, had meaningful conversations over skillet brownies with people who were strangers only days before, and met some incredible role models.
My Trip Leaders were both upperclass women who reminded me that there's no one type of Dartmouth student I need to compare myself to. One was president of her sorority, the other was more involved with her sports team. One cracked jokes, while the other was quickly labeled the "mom" for her responsible nature. But they shared a love for Dartmouth.
As a Trips volunteer, I have big shoes to fill, at least in my mind. I'll do my best to provide a welcoming and warm introduction to this school, recognizing that many may feel scared, uncomfortable, and intimidated, just like I was. I hope to be a friendly face that they can rely on, whether that's in the woods, on campus for the coming years, or anywhere else in the world that we may find ourselves."
Part of the reason why I decided to apply this year is because I have many friends who have told me what a unique experience it is — this time on the other side, as students who have already gone through a few years of Dartmouth, have some advice to offer, and are part of this new home for the incoming class.