« All Posts by this Blogger
Let Me Introduce You to... Neelufar Raja '21!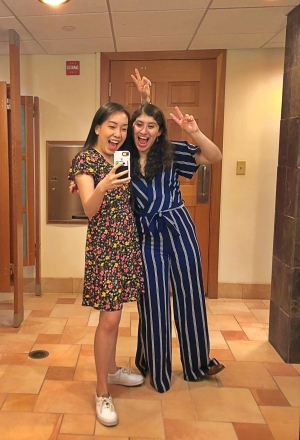 This week, I wanted to introduce one of my close friends, Neelufar Raja! She's an awesome, talented, passionate person who brings so much joy to those around her. As someone who is not religious, I have learned so much from Neelufar about not only her faith, but many sorts of religions. Because of her, I've attended Multi-Faith Conversations, potlucks with Al-Nur, and events with the Tucker Center for Spiritual and Ethical Life. So without further ado... 
"My name is Neelufar and I am a '21 at Dartmouth from Cupertino, CA! I'm a Biology major and an English and Creative Writing minor. On campus, I'm an Undergraduate Advisor (UGA) for the Interfaith Floor, I draw comics for The Dartmouth, I've conducted immunology research at DHMC, and I'm involved in Dartmouth's pre-health Nathan Smith Society. When I have free time, I love to play saxophone, bike, and kayak on the River! My faith background is Muslim, and I'm the president of Al Nur, Dartmouth's Muslim Student Association."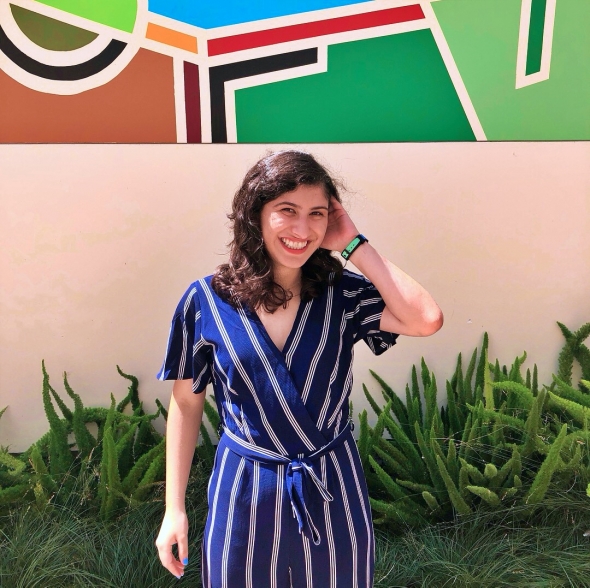 Why did you choose Dartmouth? 
"When I visited Dartmouth, I sat in on some classes, and I really enjoyed seeing the dedication of the professors and the students collaborating with each other. The intimate classes were really appealing to me, since I wanted to go to a smaller college. I also remember how the students were super friendly; one girl walked me all the way to the English class I was visiting, and we had a great conversation. Lastly, I chose Dartmouth because of its proximity to the outdoors. I'm from California so I felt so at home walking around the Green!"
How has continuing your faith been in college? Has it changed as you grew from a freshman to a junior?
"The Tucker Center offers a gelato open house at the beginning of every fall and that allowed me to meet Khalil, the Muslim Student Advisor, and gain more information on Al Nur's programming. My connection to my faith itself had a bit of a transition period since I gained more space to redefine what Islam meant to me. From my conversations with other students who continue to practice their faith at Dartmouth, they also have mentioned a shift in their view of their respective religions which comforted me in knowing that I was not alone in this journey." 
How have you found community through faith and what are some examples?
"I have found community through the Interfaith Floor, Al Nur, and Multi-Faith Conversations. I have loved my experience on the Interfaith Floor! When I joined my sophomore year, I found everyone to be very friendly and interested in having intellectual discussions about religion and spirituality. I met incredible friends through the floor; sharing many late-night conversations, telling jokes, and discussing our beliefs. Now as the UGA, I enjoy building connections with my residents, especially helping the freshmen navigate their transition to Dartmouth.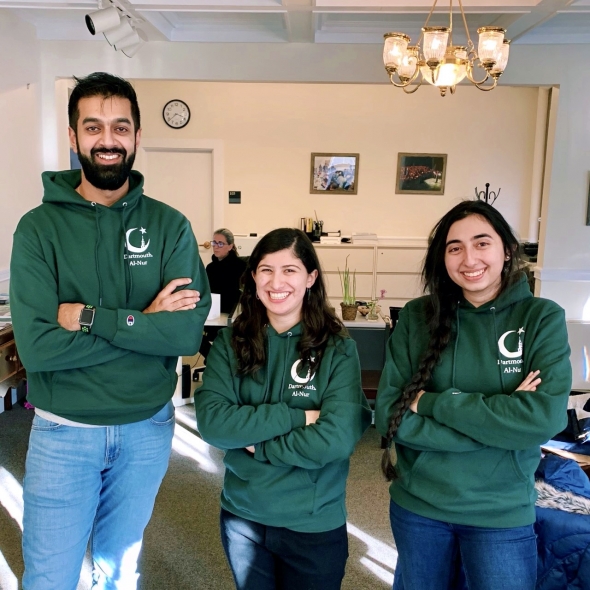 Through Al Nur, I met some of my closest friends and mentors. When I attended a community potluck my freshman fall, I was struck at the welcoming attitude of the students and Upper Valley community members. Whether it's been getting advice on which classes to take or how to deal with cultural judgement, the people that make up Al-Nur have made Dartmouth feel like home. In addition, our annual trip to Yale's Ivy Muslim Conference has allowed us to build connections to a wider group of students.
The Tucker Center's Multi-Faith Conversations (MFC) every Tuesday have also introduced me to an amazing group of people of various religious backgrounds and experiences. Each week, we meet over dinner and discuss a certain topic or theme like home, death and the afterlife, and faith and race at Dartmouth. I have found MFC to be a great way to meet people with ideas or values different from my own and think about "bigger-picture" questions that, with the busy, day-to-day rush, I normally don't consider." 
How have you been involved with fostering community centered around religion?  
"As the Interfaith Floor UGA, I have led the effort to organize visits of different places of worship with my residents. Some of the events include Hillel's Shabbat, Hindu Puja at Rollins Chapel, and Sunday Mass at Aquinas House. These experiences allow residents to learn more about a religion they may not ascribe to but want to better understand. I also have led weekly meetings where everybody shares their spiritual autobiography, a 10-minute conversation about their relationship with religion or spirituality.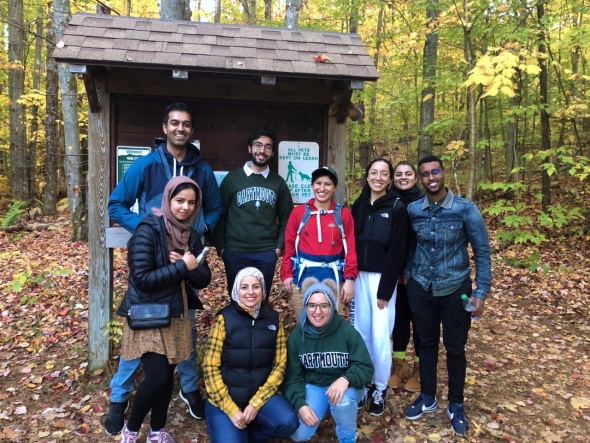 From my experience as Al Nur President, I have worked to build the strength of our community at Dartmouth. I have done that by organizing outdoor bonding experiences like a sunset hike and playing frisbee on the Green as well as some social activities like gelato hangouts and potlucks! I also work with the rest of the Al Nur board to provide spaces to improve our religious literacy like our biweekly Quran circles. By developing close-knit relationships with others, I hope that we as an organization are able to have more honest and vulnerable discussion about Islam."  
Hopefully, Neelufar will have shed some light on a part of campus that I am not as involved in, but one which I have touched upon as a result of my friendship with her. In many ways, this sort of thing happens a lot at Dartmouth. If you have a friend who is a political junkie, they will probably drag you to at least one rally with them. If they're musically talented, you'll go to their performances, and maybe others' as well. Everyone has something special or interesting or important to share with those around them.