« All Posts by this Blogger
Interviewing for Humans of Dartmouth
As I briefly mentioned in another blog post, I decided to start interviewing for Humans of Dartmouth once more this term, given that I don't have much to do at home outside of work hours. I was part of the club my freshman year and now this term as well! In case you don't know, Humans of Dartmouth is a spin-off of Humans of New York.
I actually wrote about my high school's Halls of Richard Montgomery club (a similar version) in my Common Application essay, explaining that it was what got me out of my comfort zone. I would walk through the hallways at lunch with my photographer partner, and ask random students if they would mind spending 15 minutes chatting to me about their life.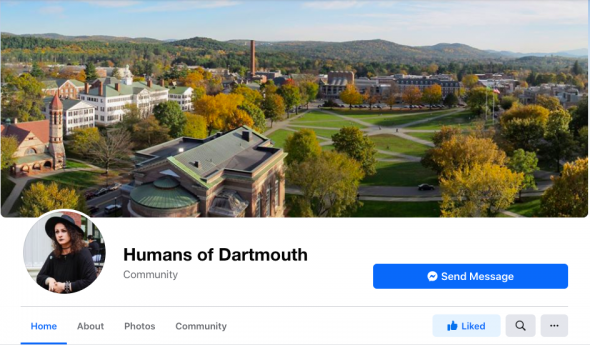 It was incredibly rewarding to learn so much about the people I would just walk by in the hallway, strangers to me just minutes before. They told me about deep truths and personal stories, funny jokes, and simple pleasures they were grateful for. It allowed me to bond with others and share what I learned with the whole school.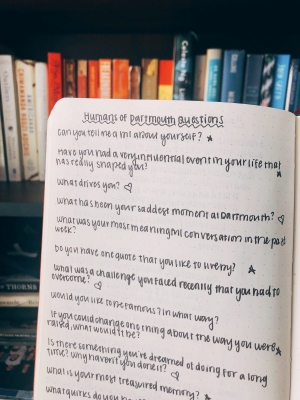 Humans of Dartmouth has been no different. Although it was infinitely more intimidating to find people to interview as a timid freshman, those encounters reminded me of the diversity of experiences held by all those on campus. I interviewed a freshman from the West Coast who lamented about the cold weather here, a mother sitting on the Green who worked at DHMC, a senior who spoke of the financial difficulties she's had to overcome and feelings of imposter syndrome, and many more.
It can certainly be easy to focus on your own experience at college, thinking about your classes, extracurriculars, friends, and family. But I found it so refreshing to sit down next to a stranger and become completely engrossed in what they had to tell me. It opened my mind to the plethora of ways in which we were all different and all similar.
Although the term has been remote, Humans of Dartmouth has still been interviewing students over Zoom or FaceTime. The only change is that instead of going up to random people on-campus, there's an online form you can sign up for if you want to be interviewed. 
I hope to continue participating in this club my senior year, especially since it will be my final year surrounded by such a community. If you're interested in reading some of the quotes posted already, you can check out their Facebook and Instagram. Maybe you'll even be featured one day!