« All Posts by this Blogger
How Dartmouth Promotes Positivity
Last winter, in my Sociology 34 class, "Health Disparities," we learned that a healthy mindset is important for a healthy body. Stress can actually drastically affect one's physical health, including blood pressure, susceptibility to diseases like the flu, and hypertension. Prior to taking that class, I did not know stress had been shown to have tangible detriments to one's health.
It's expected to feel stressed at one point or another in college. Many Dartmouth students feel the need to go above and beyond not only academically, but also socially and in other undertakings such as sports, student organizations like dance or acapella groups, and extracurricular clubs. However, there are many ways in which Dartmouth, both the institution itself and the people in it, work to dismiss the idea that stress is a necessary function of college life and an indicator of success.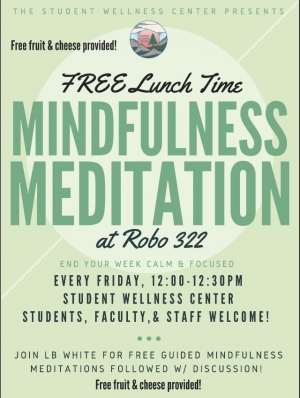 First of all, the Student Wellness Center is an amazing resource that focuses on making sure that students do not feel overwhelmed and alone. They offer free yoga classes every Monday, as well as mindfulness meditation sessions every Friday, with fruit and cheese provided. Their goal is to teach students how to explore ways to calm and focus the mind and body. No experience is required for either program.
Secondly, especially for first-years, the undergraduate advisors (UGAs) provide support by telling students where to access resources and also being there to talk to. This year I'm a mentor for my LLC, so not only do I witness the positive effects that the UGAs can have on first-years, but I can also provide a certain amount of peer support as well.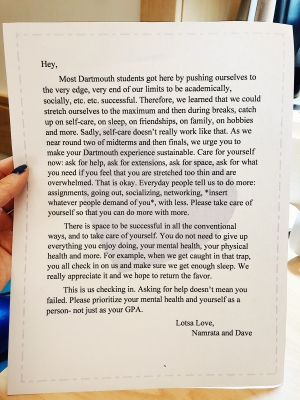 Lastly, as I learned in my class, one of the best ways to lift your own mood is to recognize things in your life that you are grateful for. The other day, Collis Café let students write thank you cards for their workers. Kresge Library was also providing free cards in a basket for students to give to someone they appreciated.
But gratitude doesn't necessitate a material object. Just thinking about a few things you are grateful can be effective enough. Today, the day before I leave Dartmouth for winterim, I am thankful to be done with my final exams, for the beautiful snow outside, and for everyone who made my fall term so enjoyable.