« All Posts by this Blogger
From the Hood Museum to the Smithsonian
At Hanover, Dartmouth students are enrolled in winter term, taking classes and preparing for finals. However, for those of us on our off-terms, it's time to reflect on a period of growth and independence. After my first week adjusting to my workplace at the Fogarty International Center, where I read academic papers, created data visualizations, and applied algorithms to our project, I appreciated a weekend to relax and recharge.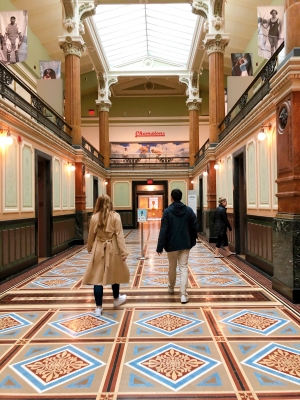 Luckily, I wasn't alone! A few of my friends are also in Washington D.C. for the winter term, interning at various places, such as the State Department and Ayuda, a non-profit organization that helps immigrants achieve justice. Since they're living in D.C., they applied for funding from the Rockefeller Center for Public Policy and the Center for Social Impact, respectively. Both of those are examples of programs that help fund students on unpaid internships.
We went to the National Portrait Gallery, where I hadn't gone since a high school field trip and they had never stepped foot in. We were most excited to see the Obama portraits, so that was our first destination. It was fascinating to see how the artist decided to portray each of the presidents and interpret some common themes throughout them all.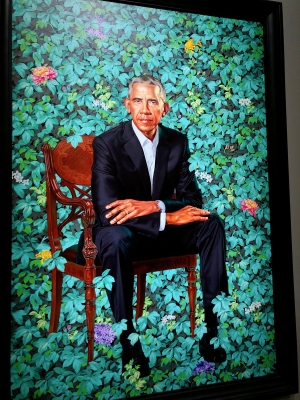 The National Portrait Gallery shares a building with the Smithsonian American Art museum, so we were also able to walk through several exhibits on American art, including one on landscapes that reminded us of Dartmouth's beautiful campus. Although we admitted that we miss Dartmouth after seven weeks of being without it, it's also exciting to be working at internships we are all passionate about.
I expect that each weekend will be full of excursions to museums and other monuments in the city (especially art ones as I will be studying art history during my spring term!). While I'm used to exploring the Hood Museum, I welcome the change in scenery and the fact that friends from Dartmouth are still by my side.