« All Posts by this Blogger
Hit the Pedal
Last week, my family took a slight detour from their vacation to visit me, just in time for sophomore family weekend. Since they were driving up from Boston, where my sister lives, it was the perfect opportunity to take her bike (which she has ridden a total of two times since buying it a year ago). I had expressed how far my old dorm was from the dining halls (which is, in reality, about fifteen minutes of a walk away), and in an effort to make me eat more at the dining halls and less in my room, my parents brought along an almost new blue bike. 
In addition to the bike, they made sure to give me a helmet, lock, and lights to stick on at night. I would not consider biking at Dartmouth to be unsafe since there are not many cars on-campus, at least compared to other schools that may be closer to the city. The sidewalks and roads are illuminated at night, and drivers are generally more cautious because they are used to pedestrians crossing the roads and bikers in the bike lane. 
The greatest thing about biking at Dartmouth is the Pop-Up Bike Shop (PUBS), which is run by students in the Dartmouth Bikes Team. I had two tasks to complete before beginning to ride my bike: register my bike with the College and have the tires pumped up a little bit. But I wasn't sure where to go and who could assist me with that. My friend mentioned that the final PUBS of the term was going to be soon, and she also had some adjustments to her bike she wanted to make so we went together to the event on a Tuesday afternoon, and even dragged along a third friend.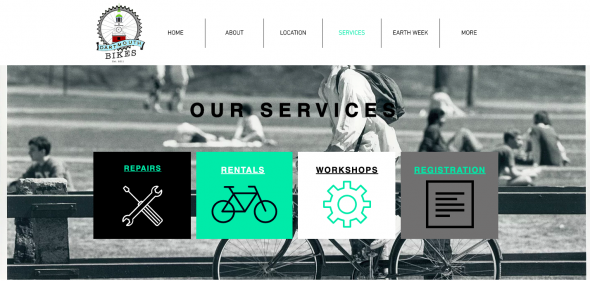 We were not only able to have our bikes straightened up, but also enjoy sitting on the grass eating hamburgers, grilled veggies, and watermelon, as the event was called "Bikes and Burgers." The maintenances are also cheap - only $5 plus the cost of any parts. I registered my bike by filling out a brief form - registration is important because it allows me to store my bike during breaks, receive help if my bike is stolen or misplaced, and prevent the College from removing my bike at college owned racks. 
Since then, I have been loving my morning bike rides to the Life Sciences Center, and evening journeys back to my sorority house. Campus looks a little different (the hills and bumps are much more noticeable!), but no less beautiful. Even if you do not have a bike, there are Zagsters all around campus which can be rented out for an hour or more. Next stop: Occom Pond for a bike ride around with friends!