« All Posts by this Blogger
Exploring Quechee Village, Vermont
One of the best parts about living in Hanover is its proximity to Vermont (it is, quite literally, right across the river) and many of the gems that Vermont has to offer. A place that I have wanted to explore is Quechee Gorge. You can camp, hike, fish, picnic, and swim there. For my friend's birthday over the summer, we planned an adventure of a day with brunch, a trip to Quechee, and dinner at her favorite restaurant.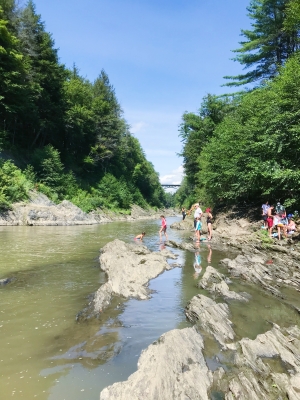 We mostly waded near the rocks at the bottom of the gorge, enjoying the views and the cold relief from the burning sun. There were a lot of other people there of all ages, sunbathing, playing with their dogs, and a few brave souls who swam in the deep sections of the water. I only made the trip to Quechee during the last week of my sophomore summer, but hopefully if you are reading this, you will make the effort to get there before then!  
In the fall, I also went to Quechee to try out the Simon Pearce restaurant. It is a bit fancier than the brunch places in Hanover, so for a special occasion a few of my friends and I went. It was going to be the last week that I was together with one of my closest friends, who is a senior. Since I will not be on-campus for the rest of the year, I won't see her before she graduates (but hopefully she will visit next year!).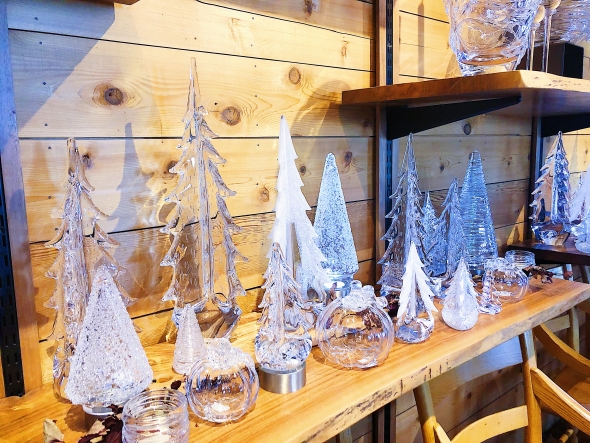 Quechee is also home to a Cabot Cheese creamery, which is a type of cheese I was introduced to during First-Year Trips. During those five days, we ate Cabot on everything, or even by itself! I particularly appreciate sharp Cabot cheese as someone with lactose intolerance (it has no lactose in it!). Apparently, the creamery has free cheese tastings as well. Since it is only 20 minutes from campus, I will be sure to indulge next time – maybe using my Zipcar. I recently signed up for a Zipcar membership, at a heavily discounted $15 a year for Dartmouth students.
Having a Zipcar is helpful for moving across campus. It also means occasional off-campus excursions, but I doubt I will use it that often since there is never a lack of things to do on-campus. I also usually take the Advance Transit buses and realized this weekend that it even goes to White River Junction, where a lot of good restaurants are. It took me a while to see that there is so much near Hanover, as well as within it, and something for every season!