« All Posts by this Blogger
Escaping the Dartmouth Library
It's not every day that you get to say you beat an escape room. Especially when it's one in your school library! In honor of open-access week, Dartmouth library held a featured event, called "Dartmouth Undying: A Zombie Apocalypse Escape Room." Always one for solving puzzles with friends, I was excited to attempt to break out. The only other one I had done before was on a trip with my housing community during my freshman year. We went to Boston for a day-trip and spent an hour or so breaking out of a jail cell (we were even handcuffed)!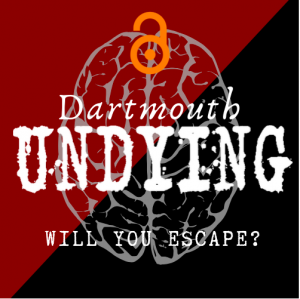 There were ten sessions total, five on Thursday and five on Friday. The sign-ups were first-come first-serve at 8 AM the day of, so a member of our group woke up early and waited for the library to open. Apparently, there were about 12 students who made a beeline for it. Luckily, we got a slot! What I've come to realize is that there are always so many cool events happening on campus, and sometimes they're a little hidden! I mostly heard of this one from sidewalk chalk drawings.
Once we got there, we went over some basic ground rules, including not to move the furniture or use brute force to open anything. The escape room was zombie-themed and designed for a group of three to six people. The room is meant to be an abandoned laboratory where we have to work to find a hidden cure before the "undead hordes awaken and prevent any chance of escape." While I won't disclose any specifics about the puzzles, they included Spotify playlists, USB drives, and glow-in-the-dark letters. With two minutes left, we managed to find the cure to the disease and save the world!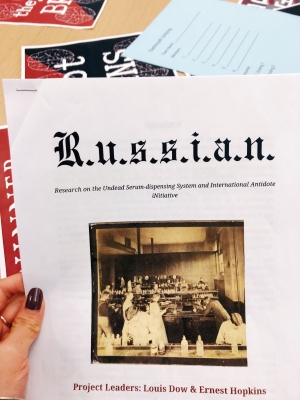 Since the escape room was for open-access week, the escape room managed to incorporate aspects of informing us about what open-access means and how to take advantage of it as Dartmouth students. For example, a portion of the puzzle involved looking up DOI numbers on our library platform. We learned about why open access is important in terms of providing academic resources to everyone, not just those that can afford it.
Overall, I was blown away at the intricacy and creativity behind the puzzles. Two of the people who we met who helped design the escape room were students at Dartmouth — one was a Thayer graduate student and another was a Special Collections Fellow. They told us that it took three months to plan! We left as one of three groups that managed to reach success, and in reward, we got pretzels and a cute sticker. Today — save the world. Tomorrow — who knows? Pass my exam?