« All Posts by this Blogger
Escape Outdoors with Art
On Friday, a few friends and I decided to take part in an event held by Collis After Dark, which organizes a lot of the student programming on-campus. It was an outdoor escape room co-sponsored by the Hood Museum of Art. I had never heard of an outdoor escape room, but it's kind of a mix between an escape room and a scavenger hunt.
Upon check-in, we received some handy flashlights to illuminate our path through campus. At each location, we encountered challenges featuring puzzles, riddles, and hidden codes related to the outdoor sculptures around Dartmouth's campus. I used to walk by a lot of the sculptures without stopping to read the little description, so I learned a lot!
We started off at the Maffei Arts Plaza, which connects the Black Family Visual Arts Center to the Hop and the Hood. At the plaza, there's an art piece by Ellsworth Kelly, "Dartmouth Panels." These five color panels are designed to beautifully complement the building, adding life and vibrancy to the area connecting central art locations on-campus.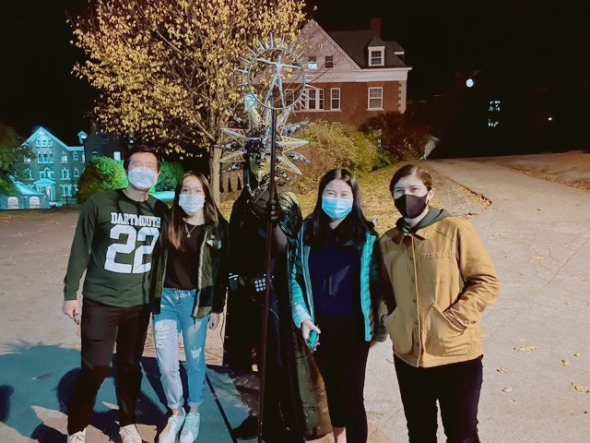 The next stops included: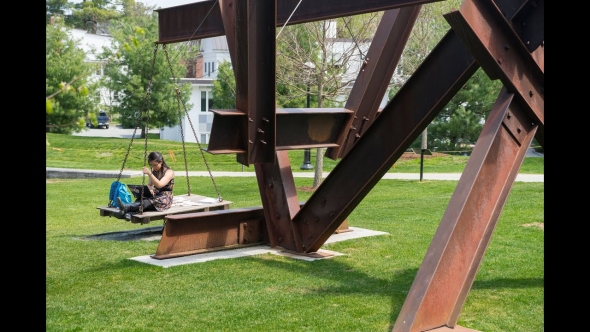 X-Delta by Mark Di Suervo, which also functions as a swing! I love to grab lunch with a friend or do work here in the fall and spring. It's conveniently right outside Novack Cafe in the library.
Peaceful Serenity by Allan C. Houser, who is one of the most renowned Native American painters and Modernist sculptors of the 20th century.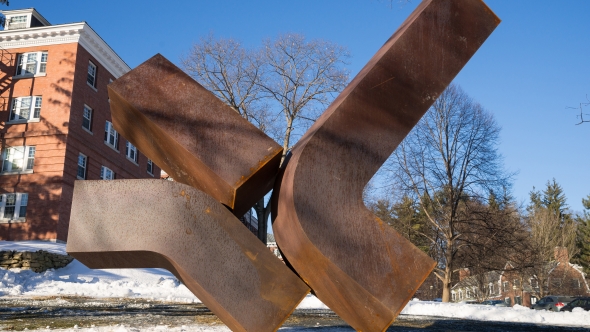 Perdido by Clement Meadmore, a 15-ft tall sculpture that reflects minimalism and abstract expressionism. Fun fact: the name was inspired by a jazz song with the same title!
I loved the chance to roam around campus, enjoying the brisk air of the autumn evenings while spending time learning about these incredible art pieces on display. I really appreciated the time that Programming Board and the Hood spent planning this activity, and it was also great to run into other students working on the same puzzles.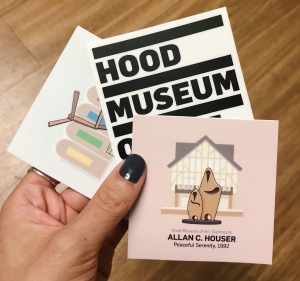 The Hood has still been trying to engage with students in many ways. For example, some of my friends were able to book in-person tours (limited to five attendees) to explore the galleries or take a deeper look into an exhibition featuring contemporary Native art and artists. They also held an event with the Great Issues Scholars Living Learning Community (LLC) last week! I really love how there are still activities to learn about the great art we have access to as Dartmouth students, and I hope to take advantage of more next term.