« All Posts by this Blogger
Dartmouth's Very Own Museum
When I was initially getting a sense of all of the buildings on campus, there was one that I wasn't quite sure what to make of – except for the fact that it was under construction. Since then, I have learned that it is the Hood Museum, connected to the Hopkins Center for the Arts, has been under renovation for the past three years. I never went into the old museum, but I was excited when my anthropology professor announced that we would be allowed early access to the museum.
As soon as I got there, I was captivated. The huge atrium and hanging art pieces reminded me of the large-scale museums I'm used to exploring in Washington D.C. We formed small groups and trailed a guide, who led us through a few galleries and told us about the objects' time periods, functions, and materials.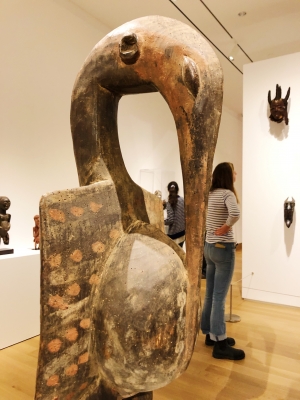 We have visited the Native American, Papua New Guinea, and Africa collections so far. I've always liked the richness in history and art associated with museums, but it's completely different now that I am taking a class pertaining to studying other cultures. We recently read an ethnography on the Gebusi people of Paupa New Guinea, in which the author describes their rites of passage, paths to and against development, kinship, etc. Everywhere I looked in the Hood, I found connections to those broad concepts. Our visits culminate in an object-based essay, where we pick one specific object and analyze its significance. I can't imagine how I'm going to choose one object out of all of the interesting ones I have already seen.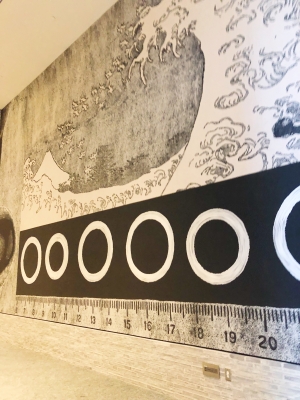 The Hood Museum will integrate itself not only into Dartmouth's campus life, given that the museum is free to the public, but also through academic avenues, evident through my own experience. For part of our time there, we sat in a classroom where there were a few select objects on display specially arranged for us to look at. The Hood transcends the notion that museums are places where people go to purely look and read about objects. Instead, I believe that it will encourage students and others to truly immerse themselves in the act of learning more about different cultures, and participate in "active engagement," as the director John Stomberg has stated as one of the missions of the Hood Museum.

I'm glad to be at Dartmouth at a time when the renovated Hood Museum is open to the public, and also for taking a class that has given me a lens through which to more critically think about why it's important to appreciate other cultures and the best way to do so.