« All Posts by this Blogger
Dartmouth Traditions – the weird, wacky, and wonderful
Given Dartmouth's long history, the number of traditions that students participate in should not be shocking. However, that does not mean I was prepared for all the fun and crazy ahead of me coming into Dartmouth. Take the small student body, plop them in a rural location, and add a splash of creativity and mischief, and bam, you've got yourself some traditions. Here are a few of my favorite:
Dancing!
And more dancing. My very first day on Dartmouth's campus as a student, I was about to embark on First-Year Trips and I was terrified of leaving my comfort zone of familiar people and places. But even more daunting than not showering for five days, was dancing in broad daylight on a patch of grass with some strangers. That's the first thing we did once we got to Robo, where we were supposed to meet other people in the same Trip section. The Hanover Crew ("H Croo") taught us all simple choreography to a few dances, which we repeated over and over. I thought that was it, but on the last two nights of Trips, when everyone from the section gathers together again, there was even more dancing! We danced our hearts out and made some friends along the way.
Homecoming
Honestly, I feel like I just wasn't well-versed on Dartmouth traditions before I got here. I knew homecoming was a big deal, but I did not know a gigantic bonfire was lit and the freshman class had to run circles around it (21 laps for the class of 2021). We know, it sounds and looks like a cult. As one of those sorry freshmen, with the heat of the fire scorching my face, running those circles was a pain. There was a crowd of alumni who made it out back to campus, sometimes with their young children, shouting words of encouragement. I was reminded of the passage of time - how they were once right where I was, sweating and running on the Green, and how in a couple of years we'll be right alongside them, cheering on some new faces.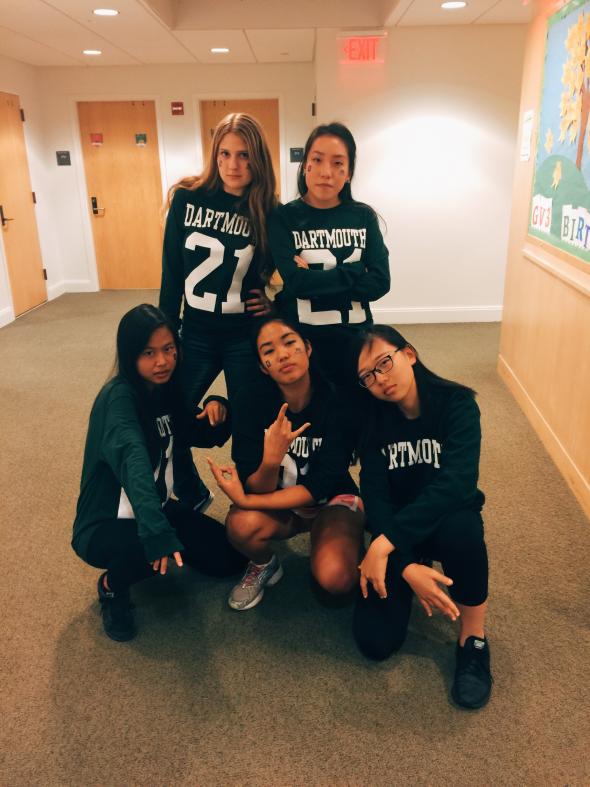 First Snow
Sadly, I did not participate in this year's midnight snowball fight, instead sleeping off a cold. But I still got the emails! Sent from Theodore Geisel to Robert Frost, along with the entirety of campus, the message alerts students that at midnight, a massive snowball fight will happen.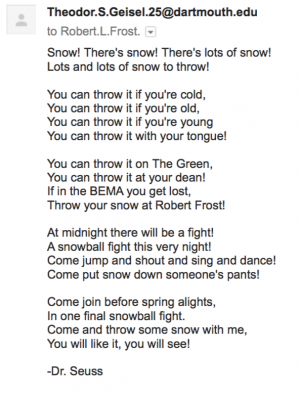 Although everyone wears coats, hats, and gloves, they're pretty much for display only because the snow gets in no matter what. As they say, who cares about the freezing ice in your pants when you're having fun? Scratch that, I think that's only a Dartmouth thing.