« All Posts by this Blogger
A Community of Care
At Dartmouth (and I imagine the same holds true at almost every college), many students participate in community service. I get so many emails from all of the different student groups that volunteer, mentor, and raise money for causes. Although I have dropped a few clubs I joined in the fall, one that I have stuck with is Health Access for All (HAFA). I initially heard about HAFA through an email in which the president of the club expressed a desire to help Americans who lack health insurance. As someone interested in medicine, I believed that it was important for me to learn about the inequities in our healthcare system. I didn't expect to find a community of peers and professionals who would inspire and motivate me. 
As a small group of only about ten members, we have had many opportunities to get to know each other. Since this club was only founded this fall, we also have a lot of leeway in making decisions about the direction of our club and discussing options together.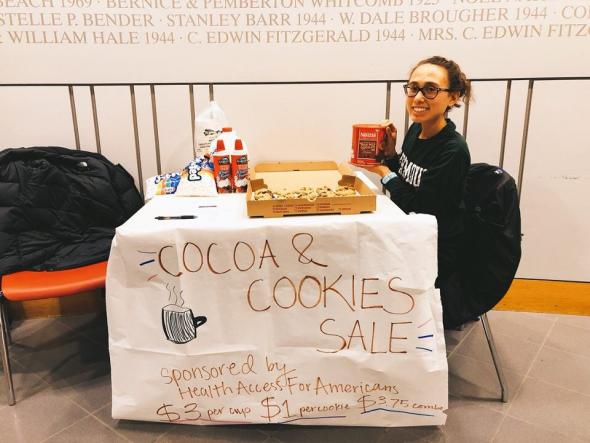 In the fall, we held our first event, the Good Neighbor Raffle. Since then, we have held a book sale, cocoa & cookies sale, and Green Key tank top sale, and all proceeds from this year's fundraisers were donated to the free clinic in the Upper Valley, the Good Neighbor Health Clinic. In the winter, I also took on the position of Interim Vice President while the founder was on a study abroad. Although it was challenging to assume such a role in only my second term, it pushed me to quickly act as a leader in the group.
Although we are all undergraduate students, the work we do would not be possible without support from the Dartmouth community. We regularly communicate with our advisor at the Dickey Center for International Understanding. But we also decided to take advantage of all the other resources and people. We have met with professionals at the Dartmouth Institute for Health Policy, the Dartmouth Entrepreneurial Network, and the Center for Social Impact to ask what they think we're doing well or how we can do better, all of which has been invaluable. If you're reading this, first of all, join HAFA if you are interested! We're always looking for more members. Students in our group also range in academic interests from anthropology to biology and computer science. Secondly, remember that at Dartmouth, there is never a shortage of people who both want to and can help you execute your vision of a better world.