« All Posts by this Blogger
COIN, Disco, and Inflatables: What To Do on a Friday Night
Prospective students sometimes ask me what exactly there is to do on Dartmouth's campus on the weekends (besides Greek life). The truth is, so much! After finishing up my classes for the day, I first headed to dinner in town with a few friends. Main Street, a quick five minutes from the library, is home to several quality restaurants and a popular choice for students who want to treat themselves. We munched on bread and butter while catching up, the occasion for the dinner being that one of my friends was headed to London the next day on the Government FSP.
Since the rest of us there were going to be off in the spring term on our own study abroad programs, we hoped to grab one final meal before senior year. I always feel so excited for my friends who are off doing amazing things and exploring new places, and eager to hear their many stories once they come back to Hanover. Right now, I have friends who are studying abroad in London, Scotland, and Milan — all around the world.
After dinner, we were just in time to walk by the final moments of Fallopalooza, which this year featured COIN. The first Friday of the Fall term is marked by Fallapalooza, a concert thrown by Programming Board. It's a great way for freshmen to celebrate the end of their first ever week of college, and for everyone else to have fun together after weeks apart. Smack dab in the middle of the Green and in front of the lit-up Baker-Berry tower, the cheers from the crowd gave an infectious joyfulness to the night. It made me realize how much I missed the regular campus with its over 4,000 students, having been here when only the sophomores stayed.
My sorority was also holding its first-ever open to campus disco party that night (barring '23s). It was great to see so many of my sophomore friends and share with them the summer that I had. This was a dry event (no alcohol), and there were also two other simultaneous dance parties happening which were open to freshmen as well.
Finally, after a long night of food and dancing, what better way to end the night than by jumping in a bouncy house or two? Collis After Dark, which organizes fun events every single Friday and Saturday night, set up several inflatables throughout the Collis Center, from 9 PM to 1 AM. I did not expect to be participating in an inflatable jousting battle, but the best things happen unexpectedly.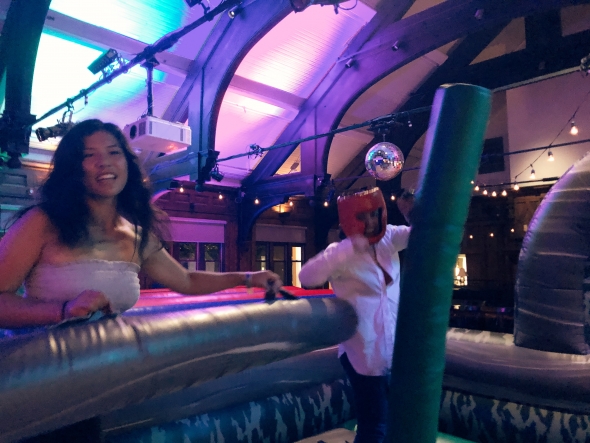 It's not uncommon for students to have as packed a schedule as this, just because there are so many events on-campus to participate in — not to mention the opportunities for you to plan spending your time your own way, whether that means grabbing gelato with a friend, planning a board game night, or going stargazing on the golf course.