« All Posts by this Blogger
Climbing Towers Up, Up, and Up!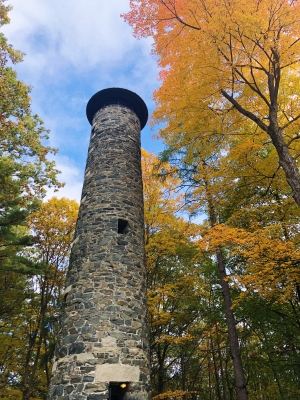 It seems that all I do in the outdoors is climb things — mountains, fire towers, hills, even our very own Baker-Berry Tower. This celebratory weekend was no different. For Homecoming, the college was giving tours of Bartlett Tower, which is usually closed to visitors. Bartlett Tower is a 71-foot-tall stone structure built between 1885 and 1895 (so, a very long time ago…) that replaced the Lone Pine.
I must admit, when my friend first mentioned the tours happening for Homecoming, I thought she meant Rollins Chapel, another older building on campus. The original plan was for each class to put up 10 feet of the tower each year starting from 1895. A general lack of funds meant that the cost and the labor of building the tower fell to the students, something unfathomable in this era.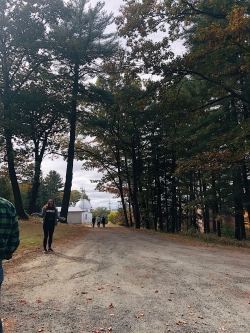 The weather this weekend was absolutely perfect, with the foliage in full bloom. The tower did not look too out of place amongst the auburn and orange leaves, hidden away from most of the rest of campus. After taking photos with the dog of the woman in charge of the event, we climbed the 86 steps to the top of the tower. At the top, there was a ledge and we could see where hundreds of people had inscribed their initials into the wood, speculating how exactly they got up there. We were content with just taking a few photos and then heading back down.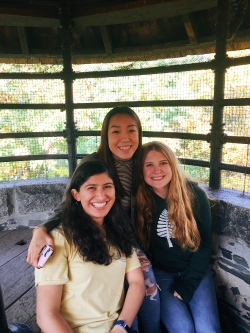 It was interesting to think about the architecture of the building, being halfway through my art history course. A few weeks ago, we spent one class walking around to different buildings on campus, including the Sphinx, Dartmouth Hall, and Rollins Chapel, and practicing our formal analysis skills on them. The places I walked past on a day-to-day basis now held much more meaning in their details, including the color of the windowsills, the symmetry or lack thereof, and the general style they evoked. It's interesting how the class has made me notice more about my surroundings, including all of the unique buildings on Dartmouth's very own campus.