« All Posts by this Blogger
Climbing with the Dartmouth Outing Club
I am, and have always been, afraid of heights. So naturally, I signed up for a climbing trip with the Dartmouth Outing Club (DOC). This was actually my first trip with the DOC, besides First-Year Trips and other events such as their semi-formal at a roller rink. On Saturday, seven of us loaded into a van and headed about an hour away to Concord, New Hampshire and the EVO Rock + Fitness climbing gym there. 
Since this was my first time rock-climbing, I had no gear at all. Thankfully, we were able to borrow a climbing harness, carabiner, and shoes. Before we left, the beginners (there were three of us) received a session on how to belay and tie figure eight knots. There was a lot to remember, and I kept on making a pretzel knot instead of a figure eight, but the more experienced members were very patient and kept teaching us until we got them right.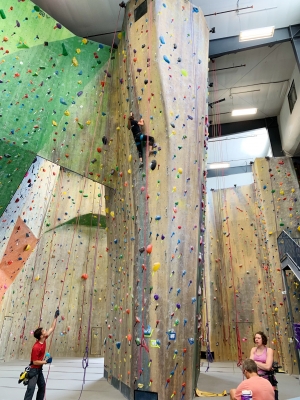 Once we entered at the climbing gym, the students that were already certified belayed us beginners. I was terrified, not fully trusting the rope and the pulley to hold me up. Once I got half-way up the wall, I stopped and truly contemplated asking to be lowered back down. But I pushed on and attempted to overcome my fear by just thinking about each move one at a time, until I reached the top! It was exhilarating, and I went up three or four more times. 

There was also an auto-belay device where the pulley would act as the belay, taking in slack rope as you scaled up. The daunting part was that once you reached the top, you simply had to place all your trust in the device, and there would be a drop of five or so feet before you were steadily lowered down. The girl who led our trip went on it and watching her fall at the top for the first few seconds was enough to deter me from using it. Belayed climbing was enough for me! 

There were also a few bouldering walls, which don't include a belay but are much shorter and have mats to catch you if you fall. I went up a few easy ones, which were categorized as V0 alongside a matching color, so you knew which path to take. A lot of the more challenging ones involved walls that slanted so you would be climbing out and up, instead of just up. Even though bouldering has smaller climbs, we were warned of how dangerous they still were because of the lack of a belay, so I erred on the side of caution. 

By the end of the three hours, I was totally exhausted, and my arms felt like spaghetti. I could already sense the soreness in my muscles. Overall, I was so glad I signed up for this trip, even though at first, I was incredibly skeptical. It was very beginner friendly and everybody was supportive, cheering us on and giving us advice on where to place our hands and feet when we were stuck.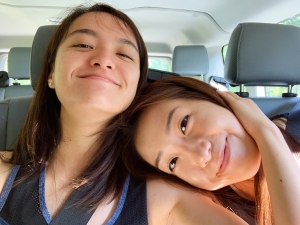 Not only did I meet people, I also learned something entirely new and foreign to me. Before this excursion, the only rock climbing I knew was related to the documentary Free Solo, which I watched over spring break. Now I really want to visit the climbing gym at Dartmouth, which was opened to the public in 1994. The DOC typically organizes climbing trips outdoors, such as to Rumney, New Hampshire, but given that It reached 95 degrees, they thought an air-conditioned climbing gym would be a better decision (and they were certainly right). What a thrilling, tiring day it was!