« All Posts by this Blogger
Campus Clubs from Home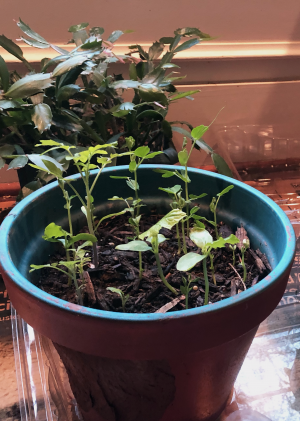 Even though we're not physically together in Hanover, many Dartmouth students are still engaging with each other and the broader community through student clubs. For example, I've still been active through Health Access for All (HAFA), the Great Issues Scholars (GIS) LLC, and Humans of Dartmouth.
As a member of the executive board of HAFA, which is comprised of five students, we thought this was the time for HAFA to step up instead of slow down, given our focus on health disparities and the Upper Valley. We still meet weekly to discuss progress on various action steps, including accepting new members for the spring term, following up with past tutees, and reaching out to different organizations that could help our mission, such as local churches and schools.
One of the best things about most clubs is that anyone can join at any time. HAFA sent out an email to the entire campus a few weeks ago describing who we are with a link to a Google Form application. The application basically asks students why they're interested in joining and some details about their tutoring subjects (but we don't care about your major or year and actually love it when there's diversity in those aspects).

For GIS, there was a Zoom call for the mentors to discuss the transition. Fortunately, most of the programming events with speakers will continue, just online instead of in-person. Usually, the spring term is dedicated to discussions and events centered around the environment. But given the situation, last week we invited Wargamers from the Naval War College to discuss a pandemic simulation the scholars participated in back in the winter term and to answer questions about the outbreak.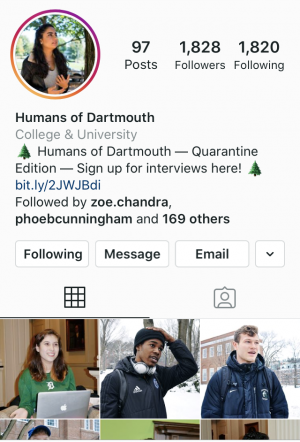 Going back to a previous point I made, I also got an email from the listserv about Humans of Dartmouth. They were looking for interviewers and I spontaneously replied that I was interested! I had been an interviewer my freshman year but cut back due to a busier schedule sophomore year. It's something I used to do in high school as well, so I'm excited to get back into it and to meet some new people along the way.
These are just my experiences with staying involved from home. Since I haven't taken classes since the fall, it can be easy to sometimes feel isolated from my friends and the many people I usually interact with on-campus through classes, jobs, and clubs. But luckily, technology and the internet makes it possible to still work together.