« All Posts by this Blogger
Back On-Campus... and Busy!
I returned to Hanover a few weeks ago, and it felt like coming home. After almost a year away, I reveled in how novel yet familiar the campus seemed my first few days, especially with a new class of '24s cohabiting it with me. While I had wondered what I would do during the two-week quarantine when I was still at home, I should have known that there would be plenty of things to keep me busy!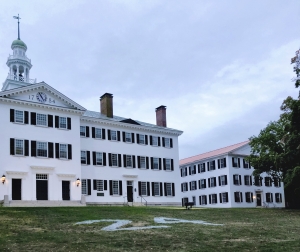 First off, I arrived a week before the start of classes because of my role as an Orientation Peer Leader. Along with my co-OPL, a lovely '23 who I had met briefly before, we planned daily meetings with our group of ten '24s. I really loved getting to know them and watching them open up to us and each other as we engaged in fun activities like trivia night and escape rooms.
The Sunday before classes start is when the club fair usually happens, and it was no different this year (except for the fact that it was on Zoom). I attended as a representative of a club called Primary Care Progress, along with four other upperclassmen. We really enjoyed talking to '24s, who popped in and out of the room to ask questions and gain an overall sense of our activities and mission.
I also spend a decent amount of time outside, as this past year has definitely shown me the value in taking walks with family and friends. (Did you know it's also good for your mind? Something I learned in my Design Thinking class). I probably went on more walks in my first week back than I had in my entire three years at Dartmouth beforehand! With Occom Pond, Pine Park, and the golf course within a 15-minute walk from my dorm, I love going on walks to clear my mind and take in the scenery of the campus.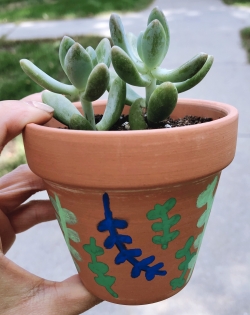 In my free time, I've been taking advantage of various Dartmouth-led programming. Students sign up through an online platform, and the spots sometimes fill up fast for events like paddle boarding or hiking. So far, I painted a canvas, did some outdoor yoga, and potted a cute succulent to bring back to my dorm! I really appreciate how these events let us bond and hang out with our friends while doing something fun and perhaps a bit more creative!
And of course, the main thing taking up my time are my classes now. I'll definitely delve into them more in a later post, but I'm loving them so far! I'm impressed because all of my classes are under 25 students, with the lowest being 10 (the smallest class I've ever been in). I anticipate that this will lead to a more intimate classroom environment despite the online setting, especially when taking into consideration plentiful office hours and TA (teaching assistant) help as well. I can't wait for the term to start rolling!