« All Posts by this Blogger
10 Photos for 10 Weeks of Fall
Ok, I lied. I actually have 11 photos, one extra for the week I got to campus before classes started, but 10 for 10 just sounded more catchy! I had an extra week on-campus because I worked as an Orientation Peer Leader for a group of about 12 freshmen. Without further ado, let's rewind back to the beginning of September... 
img_9454.jpg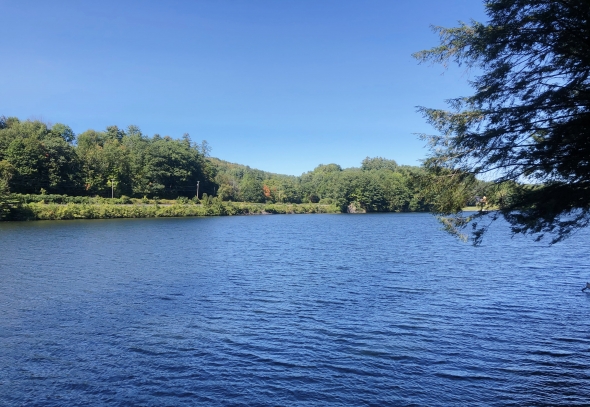 Week 0: Still following Dartmouth's guidelines to mostly stay inside except for walks during our first two weeks, I headed to Pine Park. I had only been there once before on a run with a friend, but this time, I wound up onto a ledge overlooking the Connecticut River! It was nice and peaceful, and I definitely got my steps in that day.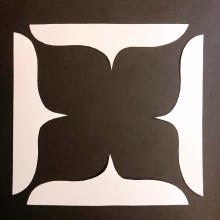 Week 1: First week of classes... I already had a project due on Thursday for ENGS12: Design Thinking. Our task was to divide a white paper square in such a way that we made four equal parts while maintaining the essence of a square. It was a lot more difficult than I thought to think of 10 unique variations, but this was one of my favorites! 
img_9444.jpg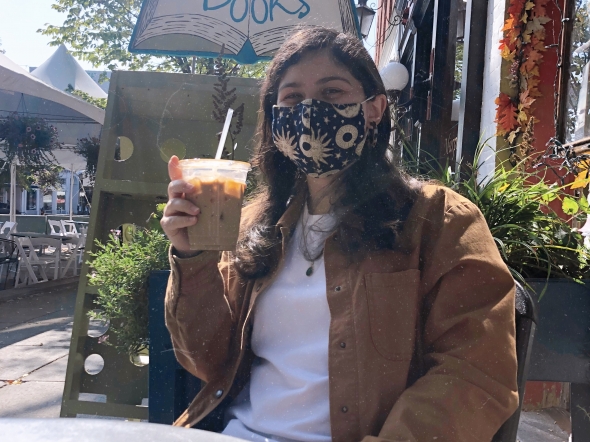 Week 2: Out of quarantine! My friend and I are in the same biology class (Biologic Lessons of the Eye), so after our Zoom ended around 10AM, we headed into town for the first time in way too long. We stopped by Dirt Cowboy for some delicious coffee, and I also took out my laptop to study for a while. 
img_9441.jpg
Week 3: I signed up for a canoeing trip with the Dartmouth Outing Club (DOC), which was still holding several trips per week, all socially distanced and following guidelines of no more than 10 people per gathering. We gathered into canoes and sailed along the Connecticut, enjoying a nice Sunday afternoon away from school work. 
img_9434.jpg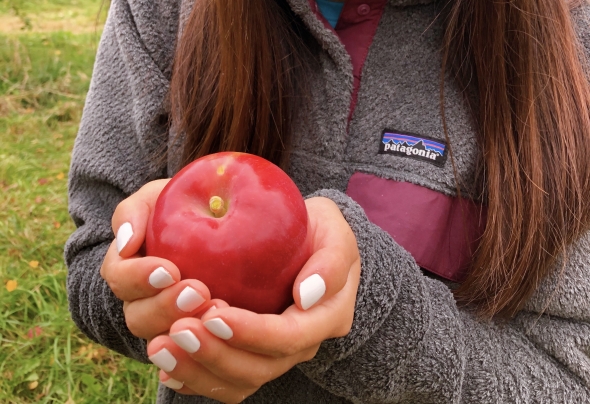 Week 4: Apple picking!! I went to a nearby apple orchard after hiking Gile (a very popular thing to do for Dartmouth students in the fall) and left with a full bag of apples (and some apple cider, of course). It took me weeks to finish all of them... 
img_9426.jpg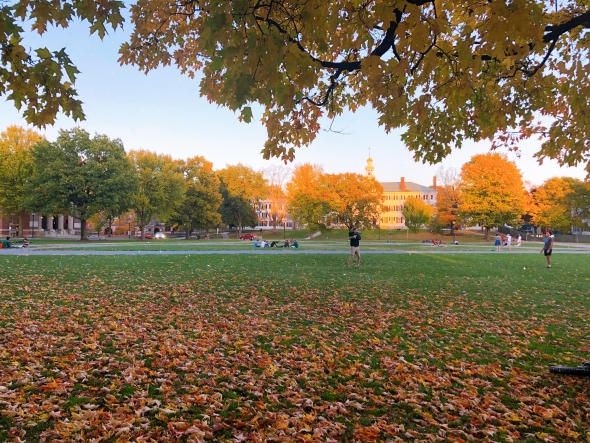 Week 5: Photos cannot convey how beautiful Dartmouth's campus is in the fall, but they can come close. I couldn't resist taking this from a bench on the Green, with Dartmouth Hall illuminated by the setting sun and students playing frisbee. 
img_9418.jpg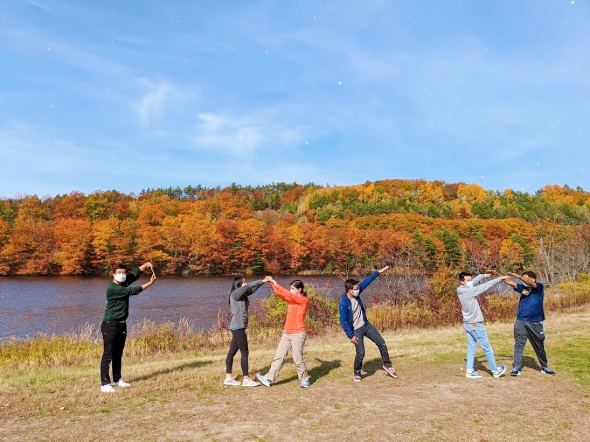 Week 6: Another week, another DOC trip! This time, I went with People of Color Outdoors (POCO), a sub-club of the DOC. We rode e-bikes to the Dartmouth Organic Farm, but not without making a quick stop at the Co-op grocery store for some cheese, grapes, and crackers. Can you guess what we're trying to spell? Hint: It's in this paragraph. 
img_9423.jpg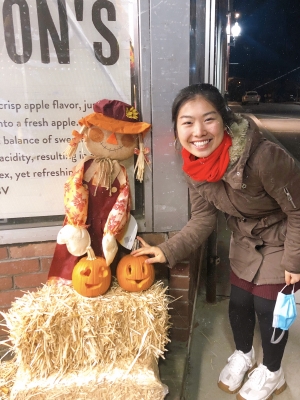 Week 7: Halloween time... My friend and I went to one of the Programming Board's Halloween events - pumpkin carving. We initially chose some normal-sized pumpkins, but decided that maybe the mini ones would be more manageable, and carved them into some fun emojis. Not everything has to be spooky! 
img_9452.jpg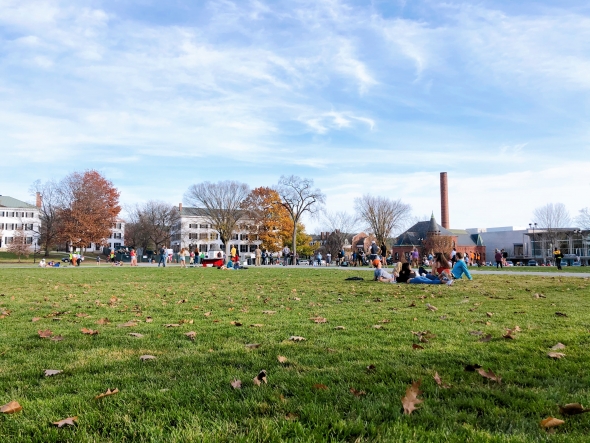 Week 8: A whirlwind of election day and results... I spent most of the day studying on the Green, and you could hear celebrations happening as people found out the news of the election. Many honking cars, waving signs, and happy commotion. 
img_9451.jpg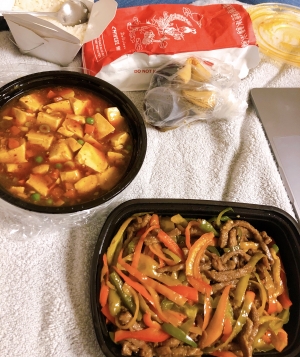 Week 9: Close to the final stretch! Impending finals and deadlines means Chinese take-out. I ordered from Han Fusion, one of my favorite local restaurants, and enjoyed a delicious meal that reminded me of home-cooked food. 
img_9421.jpg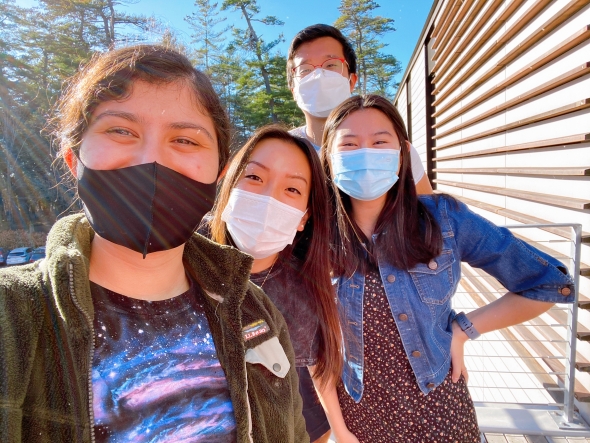 Week 10: Goodbyes :( I was surprised that I ended up making several new friends this term, but unfortunately, will not be seeing some of them before I graduate. Here's a photo from the Cube, one of the House Centers on-campus. It was a sunny day, so we went outside onto the balcony during a study break. 
Overall, this term was definitely one of the craziest terms at Dartmouth. I really did not know what to expect, with COVID-19 guidelines, not having been on-campus for a year, and remote classes. But, as you can tell from these photos, I still found a way to get outside and spend the precious time I had left at Dartmouth with friends.