« All Posts by this Blogger
Sculpture I
When I finish Sculpture I (SART 16) this term, I will have completed my modified major! So far it has been a great class. Sculpture this term is taught by Professor Soo Sunny Park.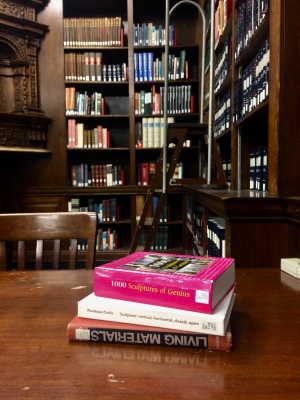 We begin each project by finding three books from the library with inspiration for our project. It is wonderful to have an excuse to peruse the shelves of Sherman, our art library. While looking for books this past Monday I found a room in Sherman lower levels that I never knew existed!
For our first project we worked with plaster, which I had never used before. I decided to cast my plaster in trash bags and to mix in some loose-leaf Yerba mate tea, which created this amazing moldy effect. The end result was surprisingly pleasant smelling, so I entitled my project "Smell the Trash".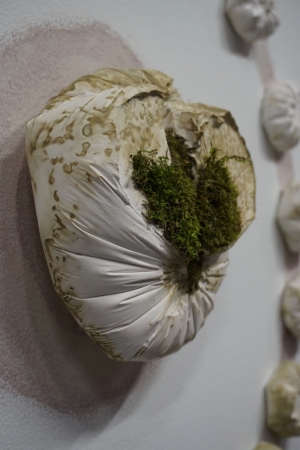 Our second project, inspired by the minimalism of the Bauhaus movement, was to create a sculpture with line, plane, and mass. We first made models out of chipboard, then calculated scaled-up measurements to cut out of wood. The final steps were to sand and to apply white paint to our wood sculptures to emphasize the form and craftsmanship of our pieces. 
The sculpture studio is awesome because we have access to so many tools. Over these past two weeks I have learned so much about woodworking tools, like palm sanders and chisels. The Studio Art department also has its own wood shop that is right next to our sculpture classroom.
Now we are working on our third project, the "synergy box". Surrealist tones are encouraged, so I want to create a crying peach "box" that holds honey. Our final project for the term is to create a three-point structure to support body weight.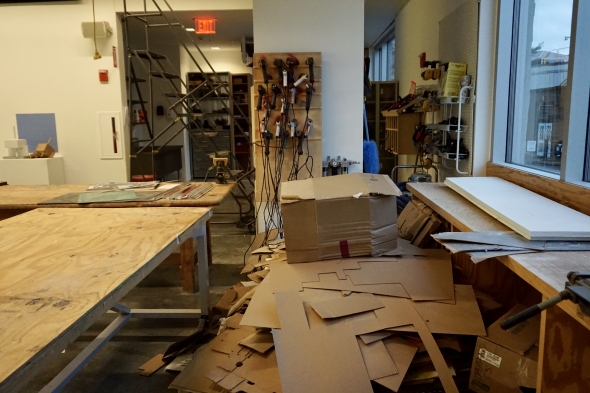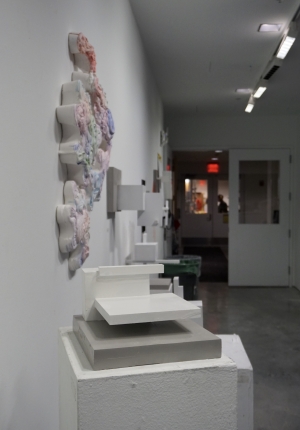 Professor Park pushes us to take our projects one step further by creating a digital form of our pieces. So far, people have made gifs, short videos, soundtracks, and digital collages. 
Sculpture has given me a greater appreciation for woodworking and hand-made crafts. I highly encourage people to take sculpture even though it is a time commitment. It's fun to get to know people in my class through their artwork; it's like taking a peek into their brain. Each class I am inspired by my classmates and reminded of the incredible student body that I am so lucky to interact with every day.