« All Posts by this Blogger
My Favorite Part of Baker-Berry Library
Dartmouth has incredibly beautiful libraries: Baker-Berry Library, Rauner Special Collections Library, and Sanborn Library. All are filled with books from all over the world, where students can sit on beautiful furniture and partake in their studies in a dignified setting. There is a lot to love when it comes to Dartmouth libraries, especially the marble stalls in the Baker bathrooms. But for me, my favorite part of any of the libraries is KAF.
KAF stands for King Arthur flour, a Vermont-based company that sells everything to do with baking. Their flagship location is in Norwich, VT, right across the river from Dartmouth. But their more important location is within our own Baker-Berry library: The King Arthur Flour Café (seen below). It is small but mighty.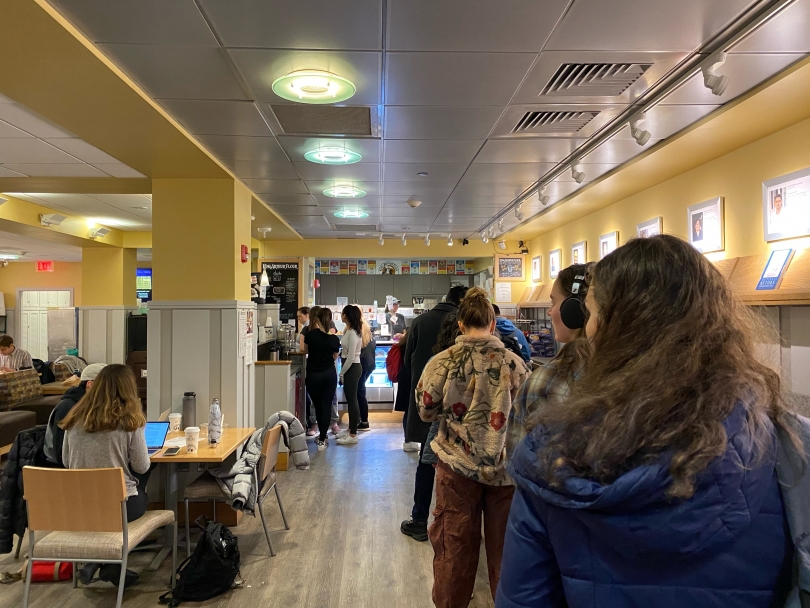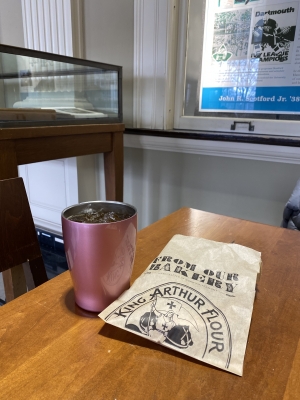 KAF serves all sorts of the most delicious pastries, all kinds of beverages (including coffee, tea, cider, and lemonade), as well as salads, sandwiches, and other small food items. Some of my top-ranking KAF items include: the bacon-cheddar-chive scone, the cinnamon bun, the brie and apple sandwich (on baguette bread), and the Caesar salad. Some of the pastries, like the quiches and the danishes, vary by week or day. People can also pre-order cakes and pies from KAF, which usually happens during finals week when people have left-over dining dollars to spend. 
Besides their excellent food and drink options, KAF also gives you a twenty-five cent discount if you bring your own mug. If you are the eleventh person in a row to bring their own mug, your drink is free!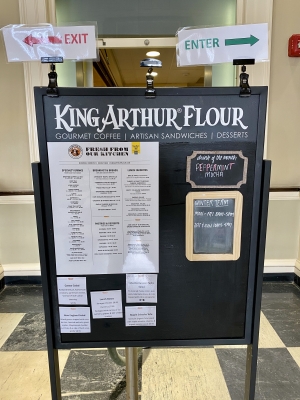 I am obsessed with KAF. I have gone to KAF almost every morning since my freshman winter. I often get KAF multiple times a day. Turns out I am not the only one who feels this way—which is why there is almost always a long line for KAF. 
The KAF line is such a part of the Dartmouth experience that DALI, Dartmouth's design lab, in collaboration with the Computational Social Affective Neuroscience Lab (COSAN) created an app that now has real-time data on how many people are in the KAF line. Check it out here.
For more on DALI, check out their website here. For more on COSAN, click here.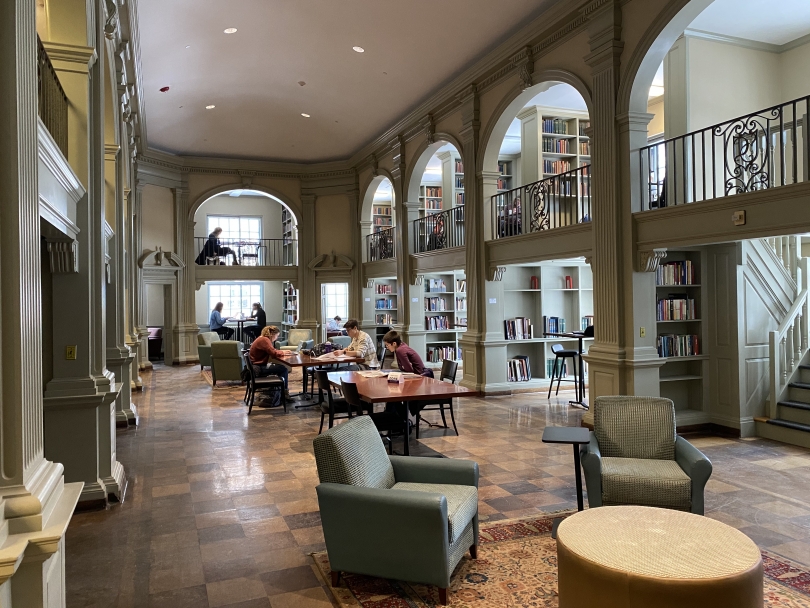 The app has not changed my behavior all too much as I am still willing to wait in long lines to get KAF. While a long wait is not ideal when you need to run to class, at other times it can be great to do some reading or to catch up with friends.
If you want to chat more about any of my blog posts, come find me in the KAF line!