« All Posts by this Blogger
Homecoming with the Band
I play alto saxophone for the Dartmouth College Marching Band (DCMB). Homecoming is our most eventful weekend of fall term: we march in the parade on Friday for Dartmouth Night, parade before the football game on Saturday to several spots in Hanover, and then play at the game itself. And, if we are lucky and Dartmouth wins, we play at a couple more places around Hanover.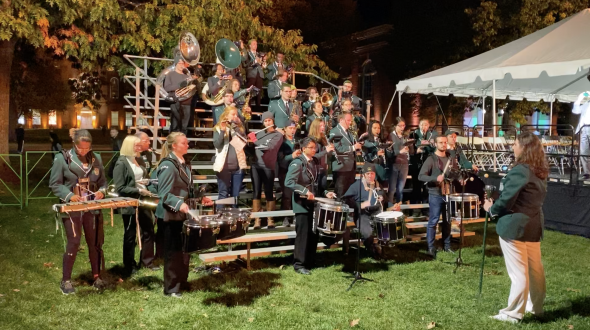 The extra special thing about homecoming is that our band alumni come back and play with us! This year, my mom, an '83 and a flute player in the DCMB back in the day, donned her old band blazer and joined us on the field. She told us that when she was a student the marching band wore white pants and white turtlenecks under their green blazers. While I am very glad that we no longer wear white pants (too prone to disaster), it was amazing to see my mom dressed up. A lot has changed in the band since then—we now use kindles for our music instead of paper sheet music in flip folders.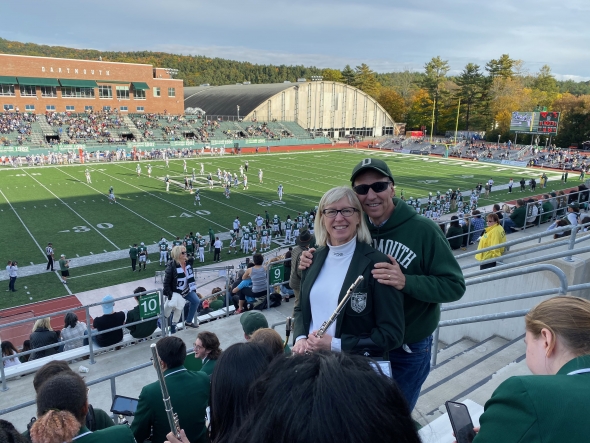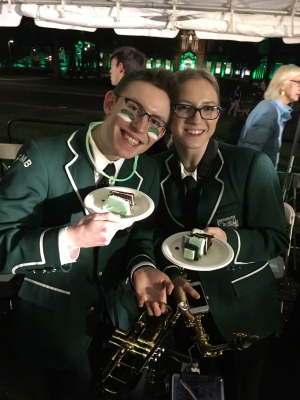 I had the pleasure of meeting another alto sax alum, Mike, who I believe is a member of the class of '75. He told me that he minored in music at Dartmouth and that his minor was probably the reason why he could still play with the band so many years later. Despite our 45-year age gap, we shared music and generally had a jolly time. Plenty of '18s who were in band with me my freshman and sophomore years also came by to play with the band. 
Performing in the parade and for Dartmouth night came with its benefits—we were able to be some of the first people to get a piece of the amazing Dartmouth Hall cake that the Alumni Council revealed that night. I can now confidently say I've eaten part of Dartmouth. But besides that, having our alumni with us makes the band bigger, our sound louder, and makes the whole experience much more fun.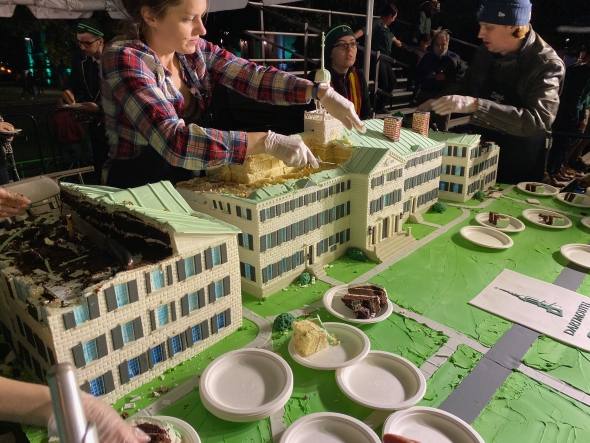 Fortunately, we beat Yale, so we were able to storm the Dartmouth Co-Op clothing store and march through the library, which is probably my favorite thing we do as a marching band.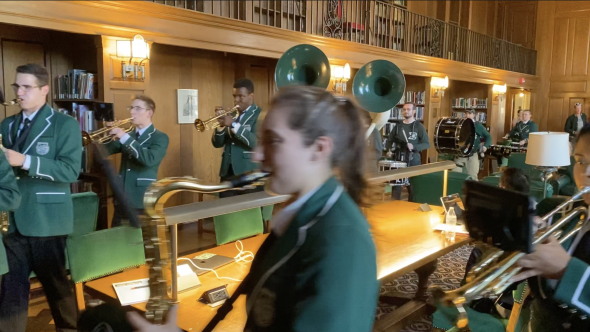 No other school can match the love that our alumni have for Dartmouth. Part of that love exists because alumni are always welcome to come home. Now, watch as the band forms a heart and plays Happy Together because we love our alumni!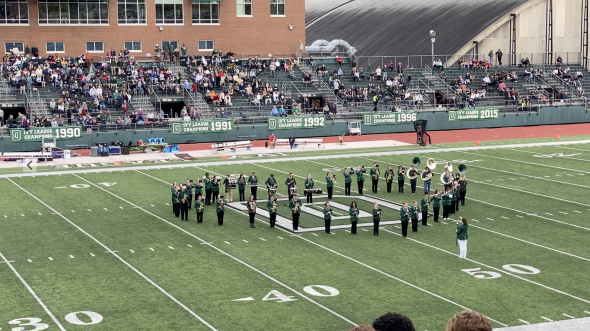 For more about the marching band, check out my previous post here.