« All Posts by this Blogger
Feeling Pressed? Go to the Book Arts Workshop!
Baker-Berry Library is full of gems: KAF, the Orozco Mural room, the Tower room, the checkered floor of Baker lobby, and, of course, all sorts of books from all over the world. But Baker-Berry would not be complete without the Book Arts Workshop. Nestled beneath Baker lobby and to the west of the mural room, the Book Arts Workshop provides a space where print tradition is kept alive and well.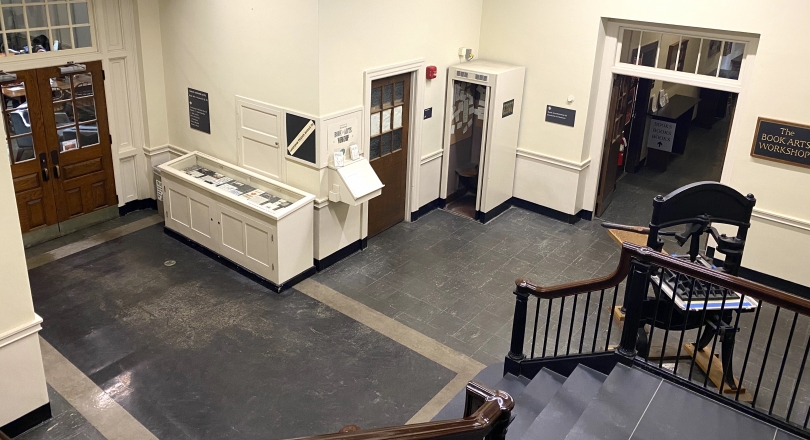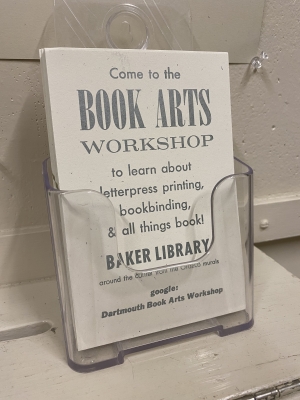 The Book Arts Workshop, according to its website, "offer[s] the unique opportunity to work with historical equipment through traditional and contemporary methods. Not only can you explore the arts and history of bookbinding, printing and typography, but [you can] also express your ideas and research in tangible form." 
The Book Arts Workshop holds Letterpress Orientation once or twice a term. Once you get oriented, you can work in the studio during Open Studio hours on nearly any project you want. If you want to get even more involved, you might consider working (for pay) for the Book Arts Studio! My friend, Iliana '20, has worked there since freshman year.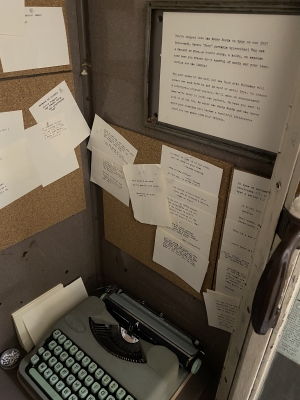 I have not attended Letterpress Orientation, but I have visited the studio for class projects as well as Workshop events. For my Writing 5 class freshman winter, we typeset and printed a class poem on a very long piece of paper. Each student in my class had one sentence in the poem, taken from an assignment we had done on the first day of class to describe sensory components of our homes. My line was "where my brother's dad jokes are worse than my dad's dad jokes," except I messed up the apostrophes when setting the type. I used a single open quotation mark by accident, so the curve is in the wrong direction. Oops!
During finals my freshman winter, one of the Workshop instructors came around the library with a very small orange press. I forgot about my stress for a moment while I made a very tiny print on the orange press. It reads "tiny little orange press". I absolutely love the little print. It's the cutest thing and has been on my wall ever since I got it.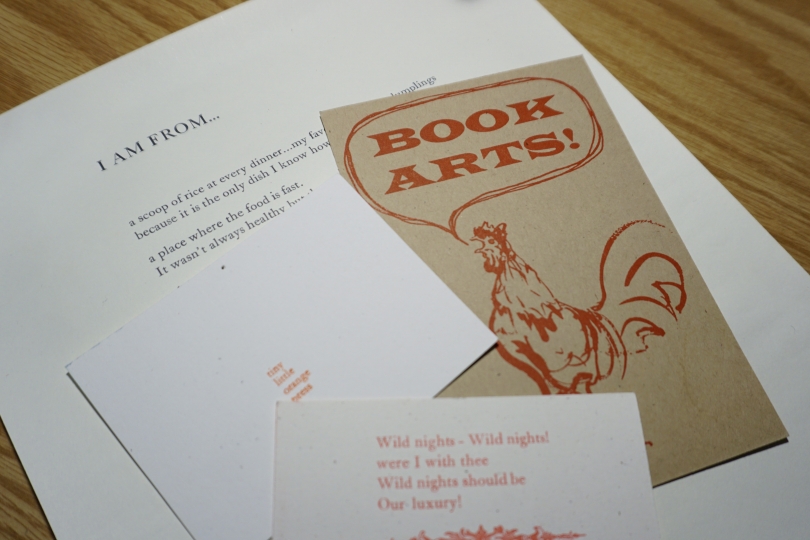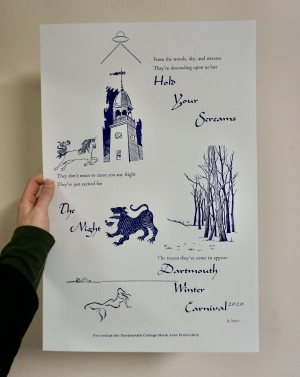 I recently went to the Book Arts Studio to make a poster for Winter Carnival. We used the large press that you can see in the right of the top photo! I donned an apron, rolled ink on the press, put my paper on, and cranked it in and out of the press. The print is so beautiful I plan to have it framed.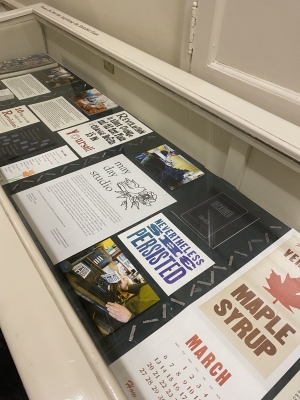 The Book Arts Studio will forever have a place in my heart. It adds a sense of magic and a richness to Baker-Berry library. It is one of the things that sets Dartmouth apart from the rest. If you are interested in learning more about the Book Arts Studio, check out the link here.