« All Posts by this Blogger
The DCMB takes Yankee Stadium field!
This past Saturday was the highly anticipated athletic event of the season: the Dartmouth-Princeton football game at Yankee Stadium to commemorate 150 years of college football. It was a high-stakes game between two undefeated teams.
The Dartmouth-Princeton game was a big deal for the Marching Band, too (see blog posts on the DCMB here and here) because we got to march on Yankee Stadium field. Funnily enough, the Yankee Stadium game was a Dartmouth "home game," so our band got to decide how we wanted to do the halftime show. Because of media restrictions at Yankee Stadium, we had a shorter time than usual for the show. We ultimately decided to do a joint show with the Princeton band.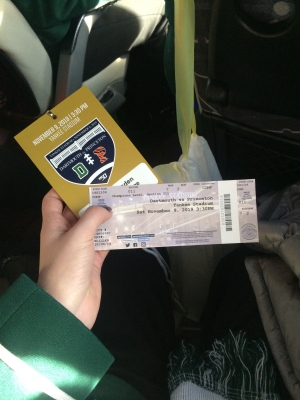 We were allotted field time to rehearse at around 11am, which meant we had to leave campus at 5am, which meant waking up even earlier than that to get in uniform and load the bus. I ended up getting two hours of sleep that night, but thankfully I was able to fall asleep on the bus ride down. 
Upon arrival to the stadium, we got special passes to sit in a section right next to the field. If we had actually been there for a Yankees game, our seats would have be mighty expensive. We rehearsed with the Princeton band soon after we arrived, and then we waited and explored the stadium for a couple hours until the game started at 3:30pm.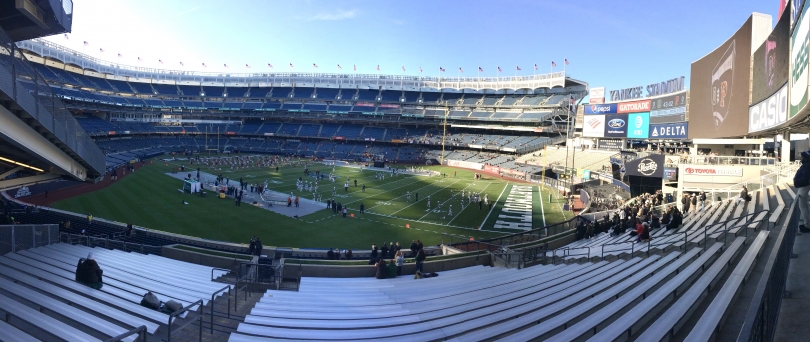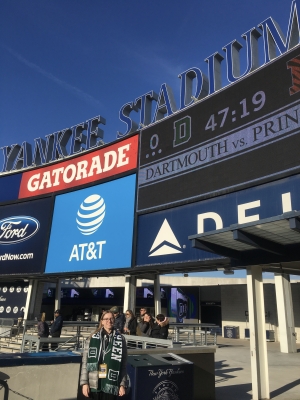 Dartmouth-Princeton graphics decked out the stadium. The middle of the field was specially painted with the Dartmouth-Princeton Yankee Stadium logo and the end zones featured perfectly painted names of each team. The Jumbotron as well as the thin screens that lined the seating levels all had animations pertaining to the game. The game was televised on ESPNU, so when the event commenced the stadium was crawling with camera people. One of my favorite parts of the game experience was that crowd members were filmed randomly until they noticed they were on the Jumbotron. The Jumbotron displayed several video segments about Dartmouth and Princeton as well. Dartmouth's segments were more promotional, showing amazing scenery from study abroad programs as well as other short clips including my brother, Jack, in the ceramics studio, and my Latin American Comics class!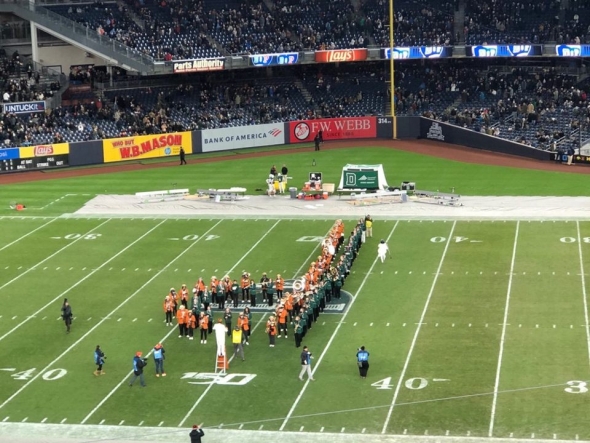 The football game went by in a blur. I froze during the halftime show but it was worth it. Thankfully, Dartmouth won the game! This puts us in an excellent position to become the Ivy League champions if we win our next two games. Playing in such a historic venue was a treat for everyone involved and a wonderful way to commemorate 150 years of college football.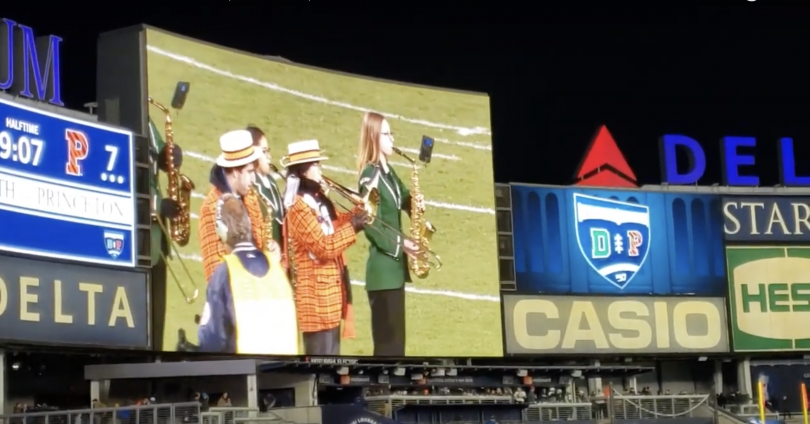 As we say after every game, the Band always wins. I'm glad the football team could join us this time!