« All Posts by this Blogger
A Day in Isabel's Life: 18X Edition
9:00 AM
I awaken to the smooth beat of Paul Desmond's Bossa Antigua. It's time to get ready for a productive day. The sun is shining and I feel great.
9:30 AM
I leave my room and head over to Baker-Berry Library to get my iced coffee from KAF (King Arthur Flour). I realize two minutes after I walk out the door that I have forgotten my reusable cup. I head back to my room to grab it.
9:35 AM
I am now back on my way to the library with my cup in hand. At KAF if you bring your own cup you save $.25 on your order and have a chance at getting your drink free of charge if you are the 10th customer in a row to bring your own cup.
9:42 AM
It's sophomore summer so the KAF line is short. I now have my iced coffee and bacon scone. I unfortunately did not win the free drink today. Hopefully I'll get one in the near future. 
11:30 AM - 12:35 PM
I go to Thayer for my first class, ENGS 24: Science of Materials. We are learning about phase diagrams and I don't quite understand what's happening, but I plan on hitting up all the TA hours this week to figure it out. 
12:50 PM - 1:55 PM
I move downstairs for my second class, ENGS 33: Solid Mechanics. ENGS 33 is great because A) the classroom is warmer than the one for ENGS 24 so I don't have to wear my sweater and B) because we get to build bridges out of laser cut plywood as our term project.
2:05 PM
While walking over to Collis for lunch I see someone who looks like my friend Che and almost call out to him, but I realize in the nick of time that he is not Che, but is wearing the exact same shirt. I eat delicious stir fry for lunch. 
3:30 - 4:30 PM
I'm back at Thayer for my ENGS 24 Lab. We learn about thermocouples and get introduced to the scanning electron microscope (SEM). I love the SEM -- I never want to part from this piece of technology that has remarkable resolution at less than a nanometer scale, but alas, I must.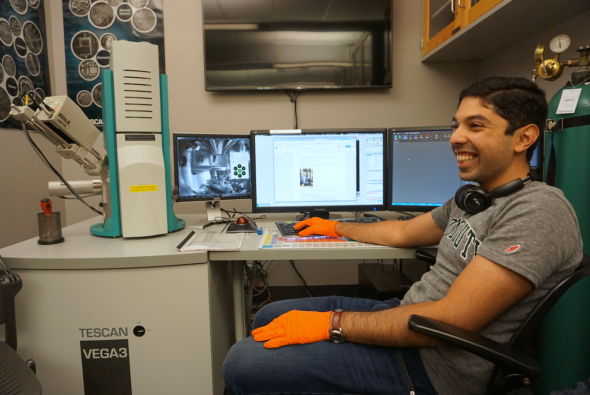 5:30 - 7:00 PM
I swim in the lap pool at Alumni Gym for Club Swim practice. It's a great way to cool off. 
7:16 PM
Club Swim takes FoCo (Class of '53 Commons, our dining hall) for dinner. We attempt to avoid the throngs of middle school girls who are here for lacrosse camp. 
11:00 PM 
I hit up Novack (part of the library) to get a few hours in on my problem sets that are due Friday. I am definitely going to need help on my ENGS 24 problem set. But that's what TAs are for! I didn't come to Dartmouth for things to be easy.
1:00 AM
I leave Novack. The night air is refreshing.
1:30 AM
I go to bed and prepare myself to go to Architecture class the next day. The grind never ends.