« All Posts by this Blogger
A Day in Isabel's Life: 18F Edition
9:05 AM
I roll out of bed.
9:42 AM
I join the line for KAF (King Arthur Flour) in the library. I order a hot latte, thinking ahead about keeping my hands warm during the long trek to the Life Sciences Center (LSC) (only about ten minutes, but still).
10:10 - 11:15 AM
Instead of our usual lectures in Thayer (the engineering school), this week for Environmental Engineering (ENGS 37) we have field trips. My group meets up at the LSC for a tour of the LEED platinum certified building. 
11:26 AM
I grab some soup from Novack and head to the stacks to work on my pre-lab for ENGS 22 and my risk-assessment homework for ENGS 37. The stacks are colder than the rest of the library, which keeps me from falling asleep.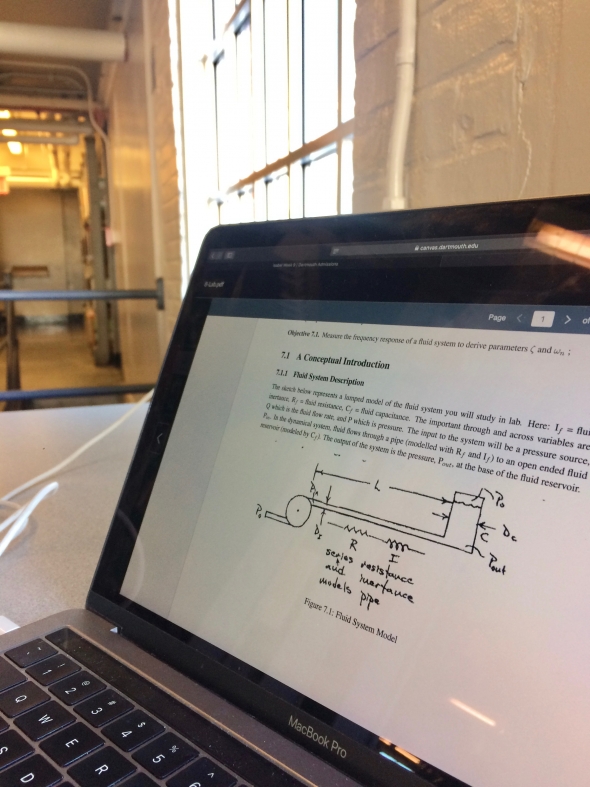 2:10 - 3:15 PM
In class for Systems (ENGS 22), we go over fluidic systems. You can model a lot of fluidic systems with electrical circuit analogs. Pressure differences in fluidic systems are like voltage differences in electrical systems, and therefore volumetric flow in a pipe is going to be like current through a wire. For example, the fluidic system I modeled for the pre-lab had an analog series RLC circuit. I already knew the rules for the electrical system, so it made solving for the fluidic system fairly simple. How cool is that?
4:35 - 5:25 PM
Tim, a local architect, teaches lessons on the CAD program Rhino 3D every Wednesday for our Architecture II x-hour.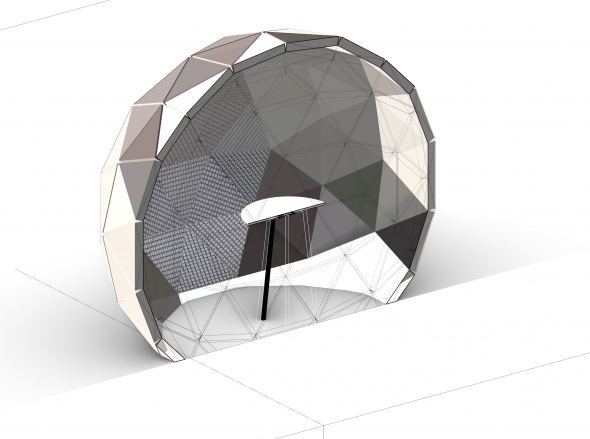 6:30 PM
I grab a quick dinner at Collis then walk over to Thayer.
7:00 - 10:00 PM
It's time for lab! There are three different RLC systems with different capacitances to look at. My lab partner and I analyze the one with the smallest capacitance. We determine resonant frequency for the system as well as other necessary values. I finish lab quickly and gleefully leave an hour and a half early.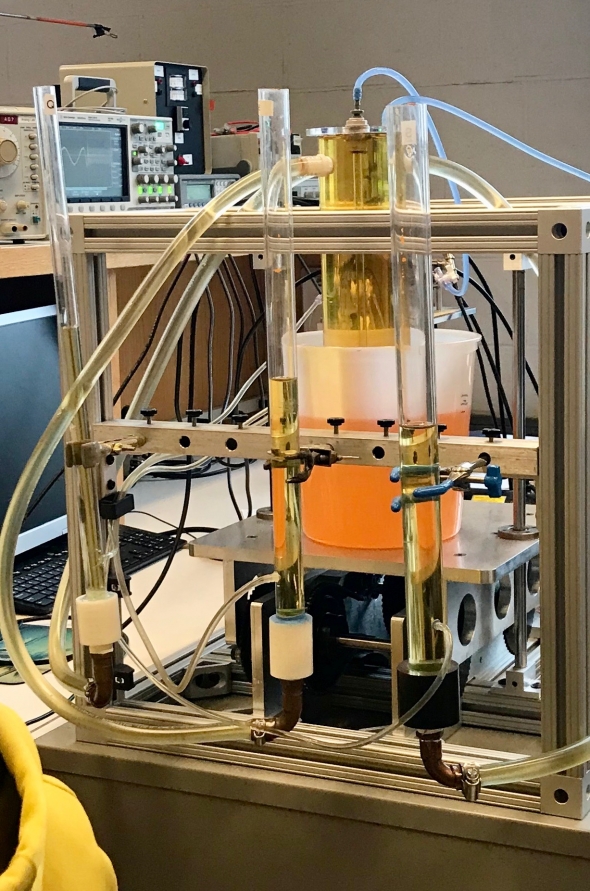 9:10 PM
I distribute candy to my residents, because surprise, it's Halloween! I'm a UGA for upperclassmen, which is essentially like an RA at other schools.
9:37 PM
My friend sends me an SOS text about the pre-lab (he has lab the following day) so I meet up with him in the library to help. I feel incredibly cool and smart because I know how to do everything. Was I just as confused as him two days ago? Absolutely. It just goes to show that a lot of learning can take place over a short period of time.
10:43 PM
My friend lets me back into my building because I left my ID in my room (oops!).
12:12 AM
I crawl back into bed. It's been a long but fulfilling day.