« All Posts by this Blogger
The Chariot Race Revival
On May 12th of this year, the highly-anticipated chariot race commenced in BEMA, a wide-open grassy area in College Park. Three teams showed up: Jack-O (Dartmouth's satirical newspaper), Cabin and Trail (a sub-club of the Dartmouth Outing Club), and Dartmouth Humanitarian Engineering (DHE). Each team had constructed their own chariot and had members ready to run as 'horses' to pull their chariots.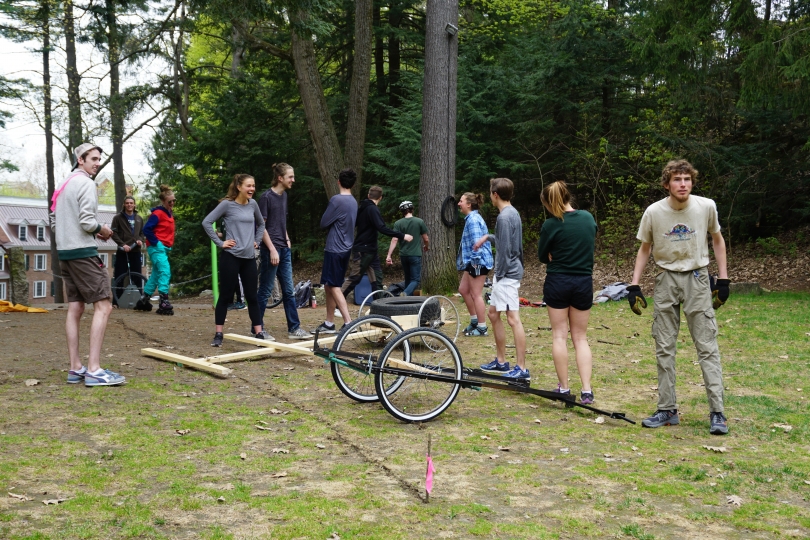 The chariot race tradition was revived this year after ending in the 1980s and being revisited in 2008 (at least according to timestamps on YouTube videos).
I helped fellow DHE members construct our chariot during Tuesday general meetings leading up to the race. Thayer School of Engineering was the perfect place to build the chariot. We had parts, like 2x4s and screws, and power tools easily available for our use. The chariot seat was made of a material that DHE had just bought for the cot project for the Upper Valley Haven.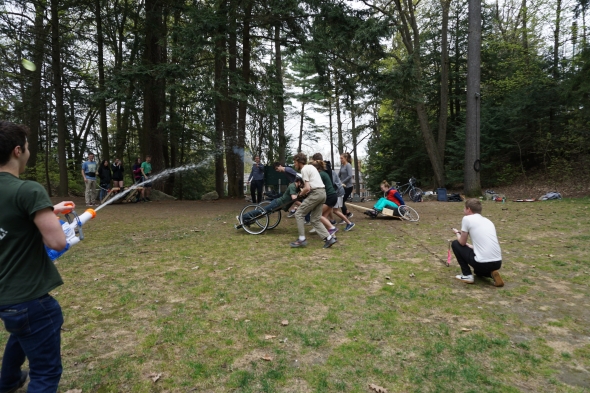 Our chariot was not necessarily designed for constructibility, which meant we ran into a few issues such as having not enough room to put the screws in to attach the wheels. We ended up putting the screws in at an angle which was not as strong as we would have liked but held together enough for the event. Overall, It was fun to build something without the stress of getting graded on it. 
Even though there was low turnout at the competition, it was still an iconic event. Spectators threw water balloons at the competing chariots. Colored smoke added to the ambiance. DHE's chariot was obviously the best, although ultimately it broke as you can see in the photo below.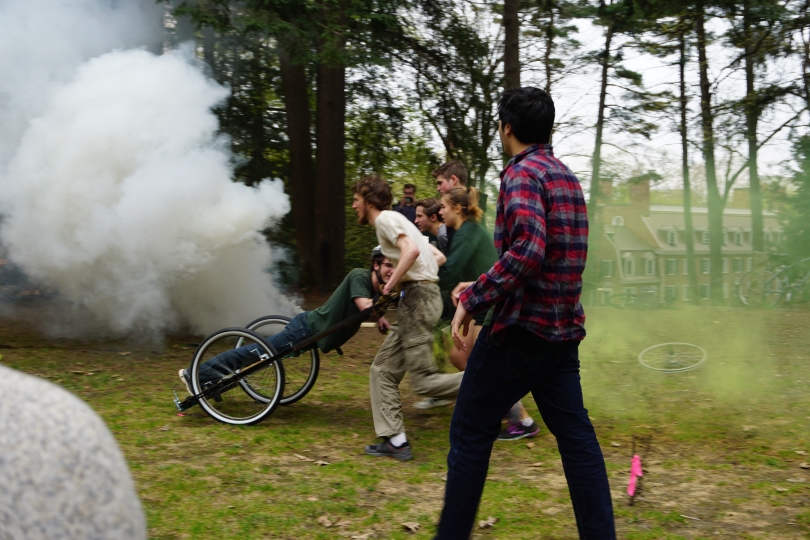 Dartmouth is built on tradition, but it is nice to know that traditions can change. Over our past 250 years, traditions have formed and disappeared and sometimes appeared again like the chariot race. Personally, I hope the chariot races continue on so that next year DHE can have a chance of building chariot prototype 2. Design is an iterative process!