« All Posts by this Blogger
Adventures in Art History
This term I am taking Sacred Architecture of Asia, my first class in the Art History department. I absolutely love it. The class is taught by Dr. Allen Hockley, Associate Professor of Art History. Sacred Architecture of Asia is the first class that my twin brother, Jack, and I are taking together, which makes it extra fun. 
We have learned about Buddhist and Hindu architecture in India, mosques, funerary architecture, and most recently about Tibetan Buddhist buildings. Moving forward, we are going to look at Daoist and Confucian temples and Shinto shrines. 
During every class, I am astounded at the scale as well as detail of religious structures. Take Ajanta, for example: Ajanta is Buddhist rock cut architecture on a massive scale. It consists of about 30 intricately carved caves alongside a river bend. As for detail, in Tibetan Buddhist buildings, there is a decorative strip that lines the top of the building called the benma frieze. It is made from tamarisk bush sticks that are cut into short segments and placed on the wall with only the ends showing. The sticks are painted purple and from far away the effect is soft, almost like velvet. How cool is that?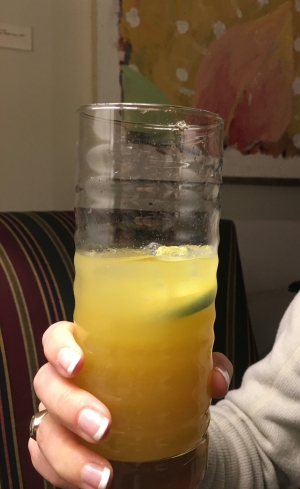 This past week, the Art History department hosted an Art & Tonics event which was truly delightful. The event took place in the upstairs lounge of Carpenter Hall, the building that houses the Art History department. Two of the professors served nonalcoholic drinks based on famous artworks: The Rothko, The Orozco (or the Epic of American Civilization), Perugino's Virgin, and Purple Petunia (courtesy of Georgia O'Keefe). I first sampled the Purple Petunia, as Georgia O'Keefe is one of my favorite artists. It had a pleasant sage aftertaste. But I have to say that the Orozco was my favorite because it included a little bit of jalepeño. And what better way to celebrate The Epic of American Civilization, the outstanding mural that we are so lucky to have in our own library! Jack and I also got to explore a Roman church though virtual reality goggles at the event. While it was a bit disconcerting to be able to walk through walls, it was the perfect way to get a 3D conception of the space.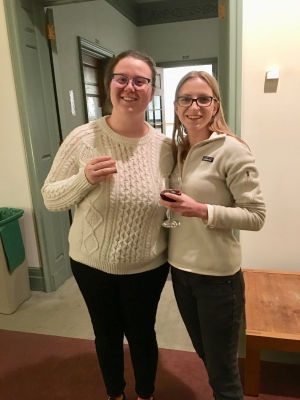 I am excited to learn more about sacred architecture throughout the rest of the term. Thanks to the liberal arts, I am able to take classes like Sacred Architecture of Asia, even though I am an engineer. Hopefully my schedule will permit another Art History class this year!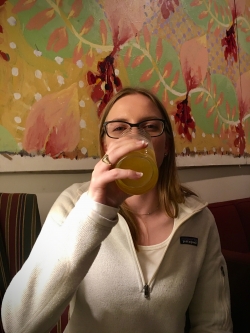 For more on Dartmouth's Art History department, click here.