« All Posts by this Blogger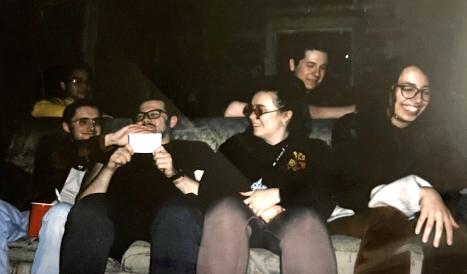 What does the Marching Band do in the Spring?
A question as old as time: where do bands go in the spring? We play throughout the football season in the fall, and become a hockey pep band in the winter. In the summer most bands hold a camp and practice. But what do we do come the spring showers and May flowers? Turns out we spend our time building up our relationships!
This permeates many events. We hold weekly movie nights, try and eat at least a meal a week together, and have even considered playing some casual volleyball together. Without the pressure of weekly rehearsals and performances, we can dedicate ourselves to each other. And a highlight of our springs is always our cabin trip. Every year, the band gets together one Saturday and hikes up to the Cabin of '66, about ten minutes from campus. We enjoy cooking over a campfire, playing games, and generally enjoying each other without the distraction of modern life. I want to take you with me today in this small adventure!
You may remember I wrote a post about a cabin trip two years ago. That trip was during winter, and at this point I remember not only the good times, but also the rough times I had treading through the snow. I must say, I much preferred hiking up the hills in the spring. The mud was an obstacle, sure, but one much more traversable than inches upon inches of snow. After a couple miles, we finally saw her: the famed Cabin of '66. One of the tens of cabins Dartmouth owns, '66 is probably the best equipped. A small water wheel on a creek nearby provides enough power for sparse lights throughout the cabin. Water from said creek comes out of a tap, but it is not drinkable, and so we brought our own water for drinking and cooking. Just behind the cabin there is a small outhouse, so we didn't even need to get the shovels out. The cabin also has mattress pads for sleeping, a kitchen, a living room with a beautiful stonework fireplace, and a porch with a hammock. I spent many hours up on that porch, admiring the New Hampshire wilderness, the peaceful creek slowly jogging by below. 
Another memory I'll carry is roasting marshmallows and hotdogs by the fire, and eating the pasta some of our bandies most kindly cooked for us. Few things lift the spirit like sharing a warm meal, huddled by the crackling fire, sharing stories of cabin trips past. One final highlight came from playing games with fellow bandies, such as telephone and pictogram. You all already know the DCMB is the funniest marching band of the Ivy League (if you only count the Ivys in New Hampshire, Maine, and Vermont), but I found out some of us are truly world-class comedians. I hold promise that our next fall season will be funnier than ever.
Leaving the cabin always feels bitter-sweet. Even more this year, as I leave it for the last time. But I bring a lot back with me. Not only the trash and leftovers (leave nothing behind), but also memories and friendships I know will stick with me for a lifetime.
Best,
Gui '22