« All Posts by this Blogger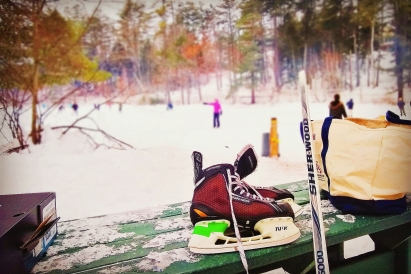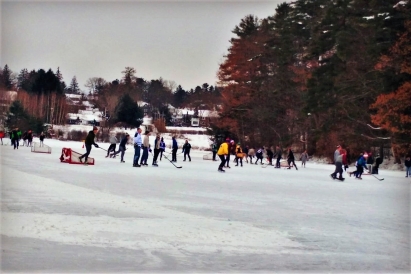 Tropical Skating @ Occom Pond!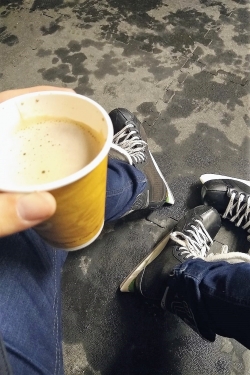 I remember my ten-year-old self at my local skating rink, enduring fall after fall. I simply could not let go of the rails, and my head just figured I would never be able to do it. So when my friends invited me to ice skate on the (frozen) Occom Pond, I was terrified. The only reason I left my room that afternoon was that my pals promised they would teach me — and the International Student Association was running a free skate day for international students, so I figured there was no harm, no foul.

Occom Pond is an easy 10-minute walk from Baker Library. During the warmer months, it is a popular destination for picnics and walks, and during the winter, the fun is doubled, as students and staff alike flock for ice skating and hockey practice. If you do not own skates, don't worry: renting them for a day is only $10, while a hockey stick goes for just $2. There's also hot chocolate and a variety of snacks for the hungry skater. I got to the pond around 2:00, put on my rented skates, enjoyed a cup of hot chocolate and stood up, ready to hit the ice!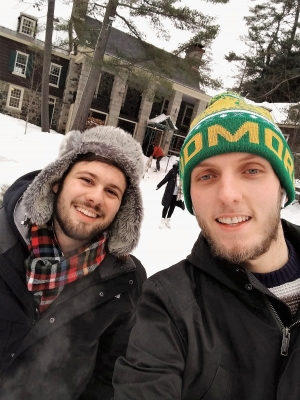 That's about the time when I realized I had no clue how skating worked. Bobbing all around the place, I somehow made my way to the adjacent room to store my boots. I found myself stuck, clinging to a wall, unable to balance. This young blonde fella showed me some trademark Dartmouth kindness and offered to help me get to the ice. His name is Adam, he is from 'near Manchester, England' and he became my friend right there. After helping (dragging) me to the ice, Adam went his own way, but every time I see him around, I make sure to say hi! Dartmouth's not short on nice fellows, as I have quickly taken notice. 

On the ice, Elijah was my teacher. A friend from the Marching Band, he made sure I got the ropes of skating, of 'pushing yourself with one foot and gliding on the other'. Focus on that glide, he instructed me. I felt like a child learning to walk! I welcome Hanover's cold. It enables me to go to places I never imagined myself in. I can't say I became very good at skating during those two short hours, but I can say that, if I woke up in the middle of Occom Pond, I could skate my way back to civilization, which is way beyond my initial goal of being able to stand up static on the ice.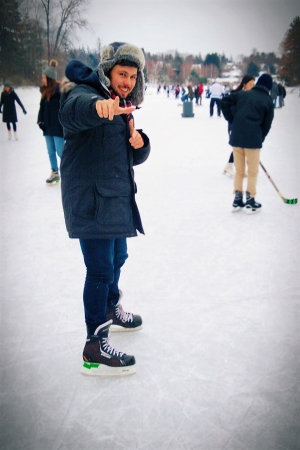 Overall, I had an amazing experience, and I thank all my friends — old and new — for helping me live it. It is rare to find a place where, on a whim, you can choose to go skating. Occom's strategic position and the accessible rental prices make this dream a reality at Dartmouth, and the awesome students make learning as much of a pleasure as skating!
I'll be waiting for you on the pond!