« All Posts by this Blogger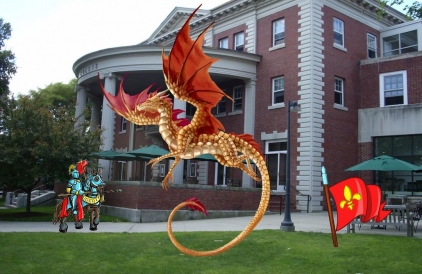 Study Rooms and Smoothies
              You find yourself at the second floor of a large student center. There is a hallway in front of you, with three doors on its right side. You see the last door is open. You try and peek in discretely to see if the room is in use: roll a D20. You got a bad roll: you fall flat into the room and startle the people inside! But not to worry, they're your friends, waiting on you for another great Sunday afternoon playing board games. Playing games is only one of the many things you can do in Collis' many study rooms. Let me give you a more expanded picture!
              First, a more formal introduction. Collis is Dartmouth's student center, located near the Green, its neighbor being Robinson Hall ('Robo').  Inside are the Collis Café and Collis Market, Collis Common ground (a big space with a fireplace and many sitting spaces), many offices and, most important for this article, study rooms. Study rooms vary in size and placement, from first floor's massive 101 room (about 30 chairs) to second floor's 216 through 219, with only five chairs each. Rooms don't need reservations to be used. However, student groups often do reserve them for meetings or other official affairs, so you might need to look around a bit to find an empty one!
              As far as how you can use these rooms, it's really all up to you. Many use them for group study sessions in a more informal environment. To me, the library inspires a serious, uptight aura, while Collis is more relaxed. Study a little, talk a little, enjoy the day. Tutoring Clearinghouse also holds tutoring group sessions here, so you can consult them for times where you can come in and study with a student who has mastered the class you're taking. These sessions helped me a lot when I was taking Calculus, for example!
              Another good use of study rooms is for playing games. Every week, me and some friends meet at Collis for some creative gaming. It's a lot of fun to have a space where we can partake in storytelling without feeling exposed to onlookers. I have also used these rooms for board games in the past. Even if you don't personally own any, you can always go down to the Collis front desk and borrow one of the ones they have down there. With a collection ranging from Guess Who to Catan, you'll find a game for you, I'm sure!
              My main goal with this article was showing Dartmouth has social spaces you can use that go beyond the usual library and common room. Collis gets two million visitors a year – why wouldn't you be one of them? Come join the fun!
Best to you all,
Gui '22