« All Posts by this Blogger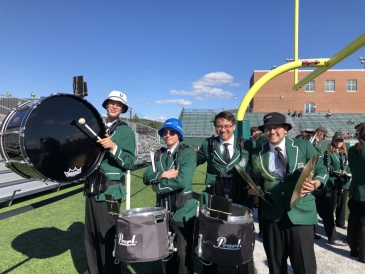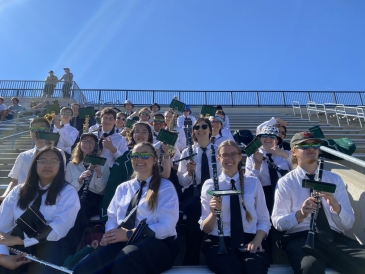 Marching into Senior Season!
Hello, People Places Pines!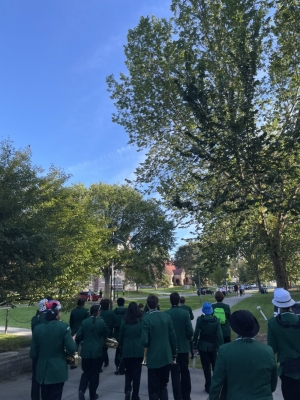 When talking about clubs, we generally talk about how it is to join one, or be part of one, as a freshman. Newsflash: people stay on clubs throughout their Dartmouth career! As you become more senior in a club, you become more familiar with the membership and traditions, but also take on the responsibility of welcoming new members to the organization. As Marching Band vice president, I feel a special duty to this club I love, and I'd love to share with you how I feel going into my senior season!
I still remember the first day I walked into Hartmann Auditorium, nearly three years ago. I was a shy freshman, with no musical experience, trying to navigate the chaotic atmosphere of a marching band the day before their second game of the season. Needless to say, I was scared out of my shoes. What sticks with me, though, is how helpful everyone was. The band's president set me up with an instrument, helped me figure out how to read sheet music, and was quick to invite me to the band's next social events and to the game the day after. I stayed in the band due to their kindness, their friendliness, and their willingness to help. Today, I am doing my best to offer the same to others.
Setting people up with instruments and music, writing emails to Campus, making sure everyone feels included and musically a part of the band can get pretty overwhelming. I am grateful to share these duties with every other band upperclassman. It is a shared duty to make sure everyone gets the experience we had. This is a mentality I've observed not only on band, but also on Brazilian society, the Collis Center, Greek houses, and any other campus social space. Dartmouth, as you may know, is built on a plentitude of traditions; that is because people care about passing on the torch!
One day, you too will be a senior in a club or society. It is a unique feeling; a mix of nostalgia and excitement for the new members who are soon to experience the joy you did freshman year. As our first two weeks culminate in our first game performance (a blowout win!), I feel accomplished and excited for the rest of my senior season.
Best wishes,
Gui '22