« All Posts by this Blogger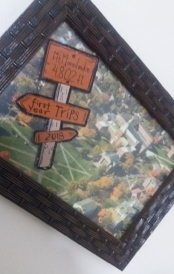 The Magic of the Brazilian Mom Group
We talk a lot about how hard it is on us, transitioning into college. New friends, new routine, new activities. What we don't really talk about is our parents' side of this. Think about it: you've probably, just like I had, lived your whole life with your parents, and now you're gone. Their routine changes. Their relations change. Their activities change. There is a lot of doubt, and there is simply not enough time in college life to akways keep your family up to speed. That's where the ingenuity of the Brazilian Mom Group comes in.
The Mom Group comprises the mothers of all 18 Brazilian undergraduate students at Dartmouth. In this online group chat, our families patchwork our lives: they piece together what each student has told them, and this way they figure out the basics of college – what finals are, what we can get at Dick's House (Dartmouth's infirmary) – and they can trust us to take care of each other. From the experience of Class of 2021 moms, Class of 2022 moms can feel safer about their kids running around the woods unsupervised. The best thing is, they can find support that goes beyond international boundaries.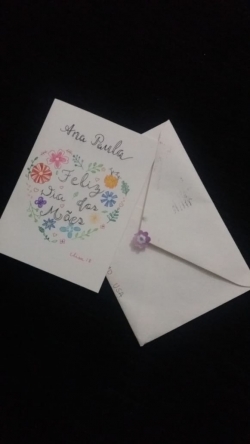 Right after the 1st of April rolled around, '22s were all worrying that our acceptance letters were just well-planned pranks. The 2021 moms, on the other hand, were already planning their first move. Elisa, mother of Lucas '21, who lives in Japan, designed beautiful cards to welcome every new mom into the family. These postcards made their way to Boston, where Nivia, mother of Pedro '21, sent them to our residencies all around Brazil, just in time for Mother's Day. I remember my mom running to my room, worried this might be an urgent letter from the College, just to break into joyful tears as she read the contents of this card: 'Being the mother of an Ivy Leaguer is not for everyone. You are very special. Happy Mother's Day. Signed by the excited and loving mothers of Dartmouth.' Is this anything BUT the best Mother's Day postcard you could hope for?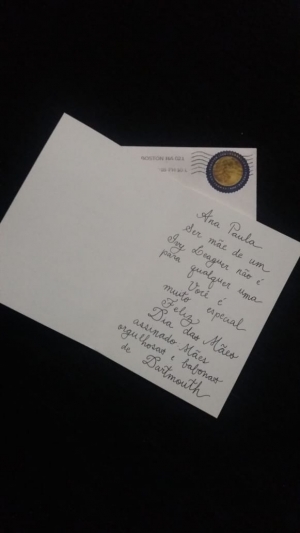 This turned out to be just the beginning of a new, exciting friendship: many mothers have met in person, stayed at each other's houses, and shared over long FaceTime calls. As the day of me leaving approached, I noticed my mom spent more time chatting with her friends. And when I moved in to Dartmouth, I first stayed a night in Nivia's house in Boston. Her family lives in America but carries Brazil in their soul. This way, she became our 'mom away from mom.' So, in a sense, we also got a lot out of this mother society thing, right?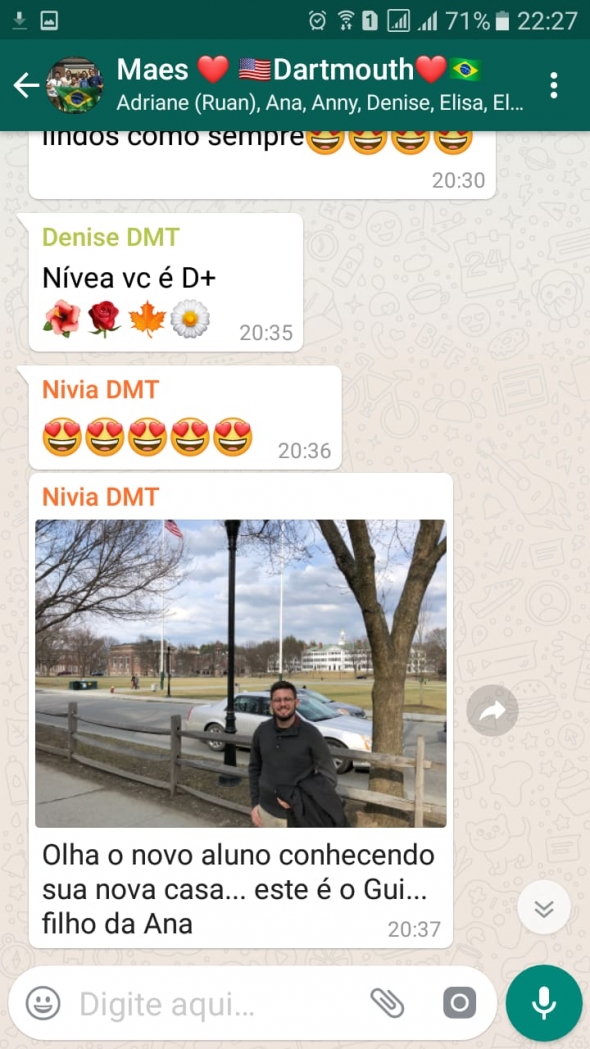 The beauty of this is every friend group could also have a mom group: all of us need support in this phase of our life, no matter our age. This could be moms from a country, a state, a city, a high school, or just ones that met by chance. My mom herself wanted me to leave you with these words, whether you are a parent, a prospective student, or just any other beautiful reader: 'With my son far away, to know people feel as I do is special. I feel comfortable, we help each other stay upright, we can share, and I could not go without it. If you find a group like this, grasp it firmly. I think that's it, now go get some sleep son, you need at least eight hours.' Oh. Oops. Sorry Mom.