« All Posts by this Blogger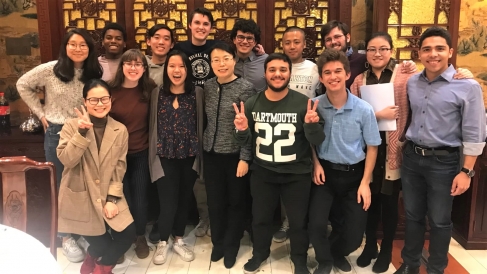 Is an LSA+ (Language Study Abroad) Worth it?
Is a Language Study Abroad worth it? This is quite a hard question to answer. While studying a language abroad is good for accelerating your language learning, it can also be hard to fit on your D-Plan, and you can always take the language courses at Dartmouth. How can you decide if it's worth it to go through the motions of including a Study Abroad on your Dartmouth experience?
I always like to start with the drawbacks. First, you'll miss out on Hanover life for a term. Some people are quite eager to take a break from the small town life and experience bustling Beijing, or shining Paris, but there are some things you can only find in Hanover. For example, looking for internships is much easier with access to the job fairs and other opportunities only in Hanover. Since a lot of study abroads happen during Fall term, this is definetly something to consider. Greek life rush is mostly done in Fall term, so if that's something you value, you'll have to either do it on winter or the next fall. Furthermore, because you'll have to receive new housing when you come back to Dartmouth, you risk not being able to room with your friends or where you most desire. This all boils down to a matter of priorities: you can search for an internship from afar with enough effort, and you can postpone rushing if you really wish to go abroad. As with most things Dartmouth, it's really up to you!
On the other hand, there are many upsides to going abroad. Your language study will be accelerated: being immersed in an environment where everyone speaks that language, with all classes being taught in said language, leads to a unique learning experience. You'll also get to experience the culture of your host country, something that classes at Dartmouth can't accomplish. As far as costs go, I have seldom heard a student complain they couldn't afford a term abroad, since your aid travels with you. That is, a term abroad will cost as much as one in Hanover. Therefore, the upsides are many, and study abroads are great experiences!
As long as you don't have anything too important going on in Fall, I definitely think you should go abroad. It is one of the best experiences and anything you 'miss' while abroad you can make up with effort or by doing it the next term. You may not be able to room with your best friend, but you will have a lot of stories to tell them, and isn't that worth a lot too?