« All Posts by this Blogger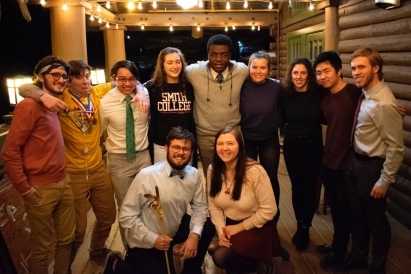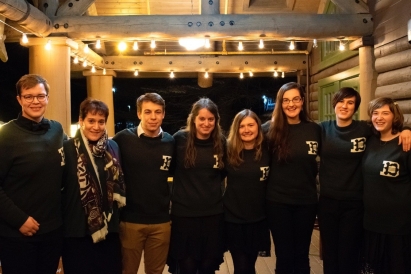 Lest the Band Traditions Fail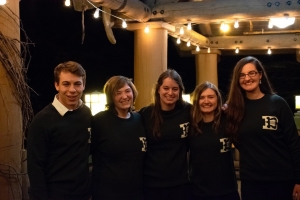 Tradition: the transmission of customs or beliefs from generation to generation. At Dartmouth, this definition acquires a living, breathing component: there's 250 years of customs to pass forward, and each one of us is a player in continuing these beliefs that make this College unique in the whole world. I come here today to talk about the BandQuet (Banquet) and the bequest tradition that it entails, and how it acquired a special place in my heart.

BandQuet is an annual Marching Band banquet. Alumni host the current Band in a night of food and fun at a local restaurant. We all put on fancy clothes, and make plans to carshare and get everyone to Jessie's, a local steakhouse just a few minutes from campus. Once there, besides eating, we observe to many traditions, like the freshman competition of who can draw the best United States map (I won by the way!) and the seniors receiving beautiful sweaters to signify their passing from Band members to Band alumni.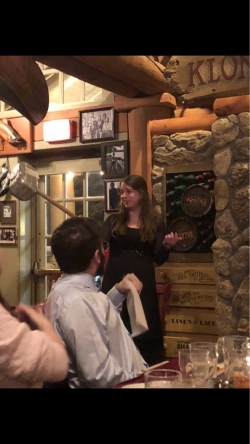 My favorite tradition, however, was one too complex for mere words. It's more of a feeling, and it is constantly reinventing itself. I am of course talking of the much-awaited BEQUESTS. Bequests are items that are given by a senior to a Bandie with some special quality. The one that's quiet but secretly an evil genius (a teddy bear with a bell inside). The one that's going to have to face a lot of headaches next year (Ibuprofen). The one that knows the most about the Bachelor (a paper rose). Or, in my case, the Equipment Manager, with the most hands-on work in the Band. My bequest came in the shape of a single glove, inherited from the former equipment manager Hannah Pinkerton '19. The other glove was bequested to the other equipment manager. Many other gifts were given, each Bandie left with a sense of appreciation and tradition: some of these items have been around for decades! Some have just been introduced! Both are equally exciting since in only four years we will have the opportunity to bequest them to a newer generation, continuing the chain.

At Dartmouth, you don't simply live tradition. You don't simply breathe it. You CREATE it. And the cumulative creations of 250 classes generate a cultural gift that is rarely found. By participating in clubs, old or new, by going to events from Green Key to Winter Carnival, you get the opportunity to insert yourself in history in a major way. It's a collaborative effort, and I hope you'll decide to be part of it soon!