« All Posts by this Blogger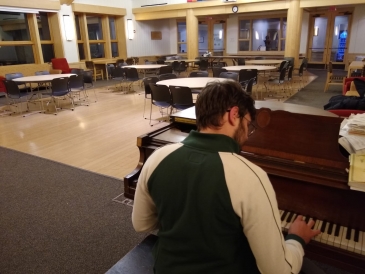 How Dartmouth taught this old dog a trick
Back in high school, it was a running joke in my friend group that I was unable to keep a rhythm. Every birthday party was a challenge; clapping in an organized manner was impossible for me. That's why, upon arriving at Dartmouth, my jump out of my comfort zone involved music.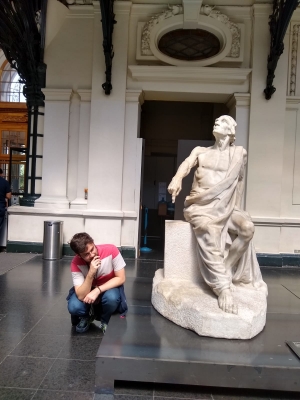 There's something about Dartmouth that calls for new experiences. Maybe it's the can-do attitude. Maybe it's the liberal arts freedom. Maybe it's the beginning of a new phase in our lives. Whatever it is, I felt my calling for my first fall was grasping music. Countless times I came home from preschool crying because I wasn't as good as the other kids. Teachers called my parents to complain about my lack of motor skills. To showcase this, I only (barely) learned to tie my shoes at the tender age of 12. To change this inability that accompanied me through my whole life, I acted on two fronts. First, I  signed up for the Dartmouth College Marching Band, as I have referenced in other posts. Second, and this is my focus here, I signed up for IIP Jazz Piano classes.
Fred Haas, the jazz piano instructor, asks for an audition before accepting a student for his one-on-one classes. This had me mortified. I had been trying to self-teach myself to play the piano for a few months, with limited success. Sitting down in front of a man who knew his music made me tremble. Fred asked me of my prior experience, had me play a small piece and, to my utter surprise, told me I was good to go, and just had to pick a time slot. I chose Thursday mornings, after my Chinese class. He said we would start the following week, and I left not knowing what would become of me.
People told me I was too old for the piano. Most start playing at around age four, and they take years to become somewhat good. These comments, however, did not discourage me. The saying goes that an old dog can't learn a new trick, but this hound would do whatever it took. Daily training in the amazing Hop practice rooms. Sharing experiences with April, my friend who was in the same class and who knew her music way better than I did. The amazing classes with professor Haas, always patient and willing to help. The journey was not easy at all.
But did my effort pay off? It sure did. After a few weeks of instruction, I was doing things I never imagined I could, playing small pieces that only two months prior seemed impossible. Concomitantly, my Marching Band playing also improved, since the bells are very similar to the piano. I am glad to say the hours I spent in the Hop this term were some of the most rewarding, and I am thankful to April, to professor Haas and to room 34's incredible Yamaha piano for bearing with me through this new journey.
How will you step out of your comfort zone in Dartmouth?