« All Posts by this Blogger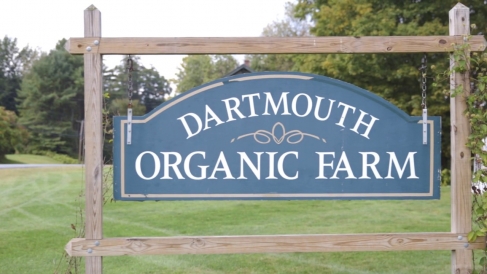 To grow tomatoes
The Organic Farm, affectionately called the O-Farm, is located just outside of Hanover. It started in the late '80s as a student project; today, it produces around 2000 pounds of food a year. This food is used to sustain the farm's monetary expenses and to feed our community and the many volunteers that keep it running. Famously, the O-Farm also hosts a couple events a term, such as the Brewhaha and pizza nights. They even have a pizza oven powered by the Sun itself, in a collaborative project with the Thayer School of Engineering!
It is a great place to hang out on a hot summer day. Many students like to kayak down the Connecticut River to reach the farm; others like to bike there, or even run the few miles to reach it. This last week, I decided to take this latter option to get there, but took the bus back (yes, Hanover has buses – and they are free!) That's because I came back with a new friend, which was quite heavy to carry. I'm talking about the tomato plant I got, of course!
It started with an email. My frequent readers might have noticed this is a pattern in my stories, that they start like this. To them I say, checking your emails hourly is a great habit to acquire at Dartmouth. Anyway, an email arrived saying that the O-Farm would be giving out surplus tomato plants, and all you had to do was go and pick one up. I promptly took the opportunity to prove I have a green thumb.
From where I am housed to the O-Farm was about a 5-mile trek through Hanover. It was great to see all the places I love; I truly miss roaming these streets. The sun was shining just right, the wind kept me cool and I barely saw time pass. Before I knew it, I was at the O-Farm, where I picked up my plant and walked the mile to the nearest bus stop. After repotting it to one I had bought at West Lebanon, the nearest city with a nice selection on shops, I let it rest on my porch. And there it has stood. I have gotten around fifteen tomatoes from it so far. And they were quite sweet, I was impressed!
There are many places around Hanover to discover—life never gets dull!
Hoping to see you around sometime soon,
Gui '22