« All Posts by this Blogger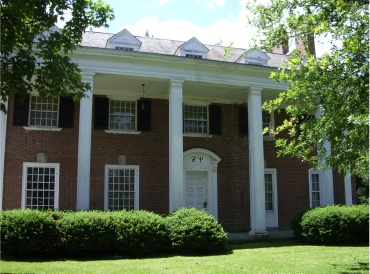 Greek Life: A Guy's View
What shapes your view of Greek Life? For most of us, it's media depiction. It might be Animal House. Or perhaps it's Legally Blonde. Or you might be a tad bit out there like me and have previously based on the modern masterpiece Monsters University. Coming into Dartmouth, I had many questions in my mind: are some fraternity houses really evil? Is the join process truly muddy? Is their influence on campus really that strong?
Now, I'll be honest with you: most of these questions have hard answers. The first one doesn't, though: fraternities are not evil! They are gatherings of people who like having a nice place to hang out and hold events. They are also an amazing opportunity to form deep bonds while at Dartmouth, something I had been wanting for a long time. Dartmouth fraternities also have the added benefits of not being over-involved: not all members are required to live in the house, you are allowed to attend house events even if non-affiliated and affiliated members can go to other house's events. Moreover, most houses have spectacular financial aid, so even paying house dues is not an issue!
Now, if you come to Dartmouth, how big a part of your life would fraternities be? The answer is it depends on what you like to do. If you like to meet new people, fraternity events might be appealing to you, although you could consider Collis and club events too. Community building follows a similar path: something less intense than Greek life can be found in clubs, but I personally love the community I found after rushing. It's so unique to have guys I can hang out with, and I have met many new people since joining, a great opportunity to expand my Dartmouth experience.
Fraternities exist, they are a part of Dartmouth, but their influence on your life is only as big as you let it be. I myself decided that this was a good think for me, and I hope that you will also be able to take decisions as to this important subject. If you have any (any!) questions on Greek life, please send them to the blog!