« All Posts by this Blogger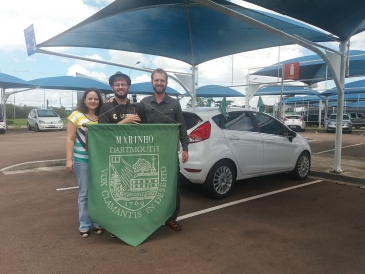 Choosing without Looking
The first time I set foot in Hanover, I was already committed to joining the Dartmouth family. It was a very hard decision, to commit before ever seeing the campus: how could I know I would fit into the community? Would I like to live in a small town in New Hampshire? Could I stand the cold and snow, and beyond that, would I thrive in this climate? And yet, by using the right tools, I was able to find the answers to my questions. Now, most of you cannot visit any colleges, and hence you are faced with the same difficult decision I had: to pick without looking.
The first way Dartmouth really caught my eye, and you'll call me biased for it, was the Admissions blog. I do not mean to preach to the choir: you know this is a great source of information on life on campus. Hundreds of posts from passionate students, such as yours truly, all aimed at giving you a full picture of our college. I regret not finding the blog sooner; I only did so one month before the application deadline. So, if you have younger peers and friends, tell them to come read! The sooner you start the process of college search, the more successful you will be.
While we all wish we could have you here, taking a live tour is the next best thing. You'll get to know all about what makes Dartmouth great, and get to see some spots that Google Street View simply cannot show you.
Finally, I have one last KEY recommendation: reach out, reach out, reach out. You can find the e-mail of department chairs online easily by googling "_____ department Dartmouth"; you can get in contact with many clubs through the COSO page; or you can simply ask the Admissions Office and they will redirect your questions to the pertinent person. While routines do catch up with us students, we always do our best to respond. I personally got a lot from e-mailing professors in the CS department which I thought I could work with, and getting their opinion on the Academics and opportunities Dartmouth has to offer.
I hope all that helps with your search. If you want to know more about anything (anything!), feel free to submit our questions to the People, Places, Pines Q&A!